Research Introduction
Development of Biocatalysts Based on Cytochrome P450s
Chapter 2 Functional modulation of P450BM3 using decoy molecule and its application to biocatalyst
Episode 7: Development of a high-pressure reactor and efficient hydroxylation of gaseous alkanes
 2nd generation decoy molecules can improve the hydroxylation efficiency of propane up to 200 min-1, but these efficiencies are far from the reaction rate of hydroxylation of long-chain fatty acids that are natural substrates of P450BM3. In addition, the hydroxylation product was obtained only less than half of the consumption of NADPH which is an electron source. Furthermore, almost no hydroxylation product was obtained with ethane, which is less reactive than propane. As a cause of this, propane and ethane are expected to have very weak binding forces with P450BM3 due to their small molecular sizes. In the case of a substrate having a weak binding force, increasing the concentration of the substrate in the reaction solution is a conventional strategy for accelerating the reaction. However, gas molecules such as propane and ethane, unlike liquid and solid substrates, decrease the solubility in the solution when the temperature is increased. In order to increase the solubility of gas molecules, pressurization of gaseous molecules is an effective method. But, from the viewpoint of ensuring safety, it is usually limited to pressurization of about 1 MPa. So, large-scale devices are required to achieve higher pressure conditions.
 Therefore, we started the development of a high-pressure reactor that is suitable for enzyme reactions and can achieve high-pressure conditions safely and easily. We focused on high performance liquid chromatography (HPLC) commonly used for analysis and purification of biomolecules such as proteins. HPLC is a device that can accurately deliver liquid to a column, and has a structure that can withstand high-pressure liquid. Therefore, we focused on the pressure resistance of HPLC, and it was diverted to a high-pressure reactor (patent publication 2019-69404). The principle of operation is simple: gas molecules are introduced into an endo-capped reaction vessel, and solvent is flowed from the upstream by using an HPLC pump, so that the solvent acts like a piston, resulting in compressing the gas in the reaction tube. Finally, high pressure conditions of 10 MPa can be created in the reaction vessel. Using this system, ethane and propane were hydroxylated at 5 MPa. As a result, the reaction rate exceeded 28 min-1 for ethane and 2200 min-1 for propane. In particular, the reaction rate of propane hydroxylation is higher than that of the highly evolved cytochrome P450BM3 mutant developed by Prof. F. H Arnold, who won the 2018 Nobel Prize in Chemistry, after many cycles of directed evolution. Our high-pressure reactor is expected to be an extremely effective tool for efficient chemical conversion.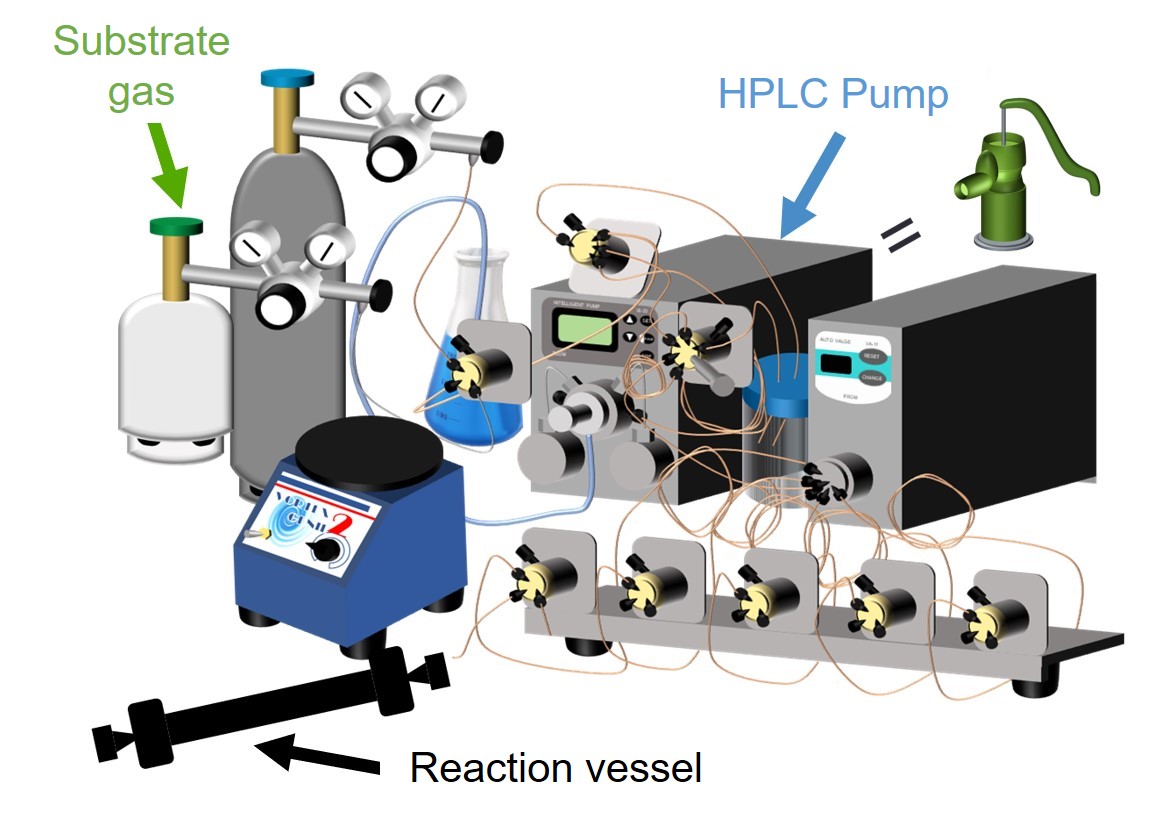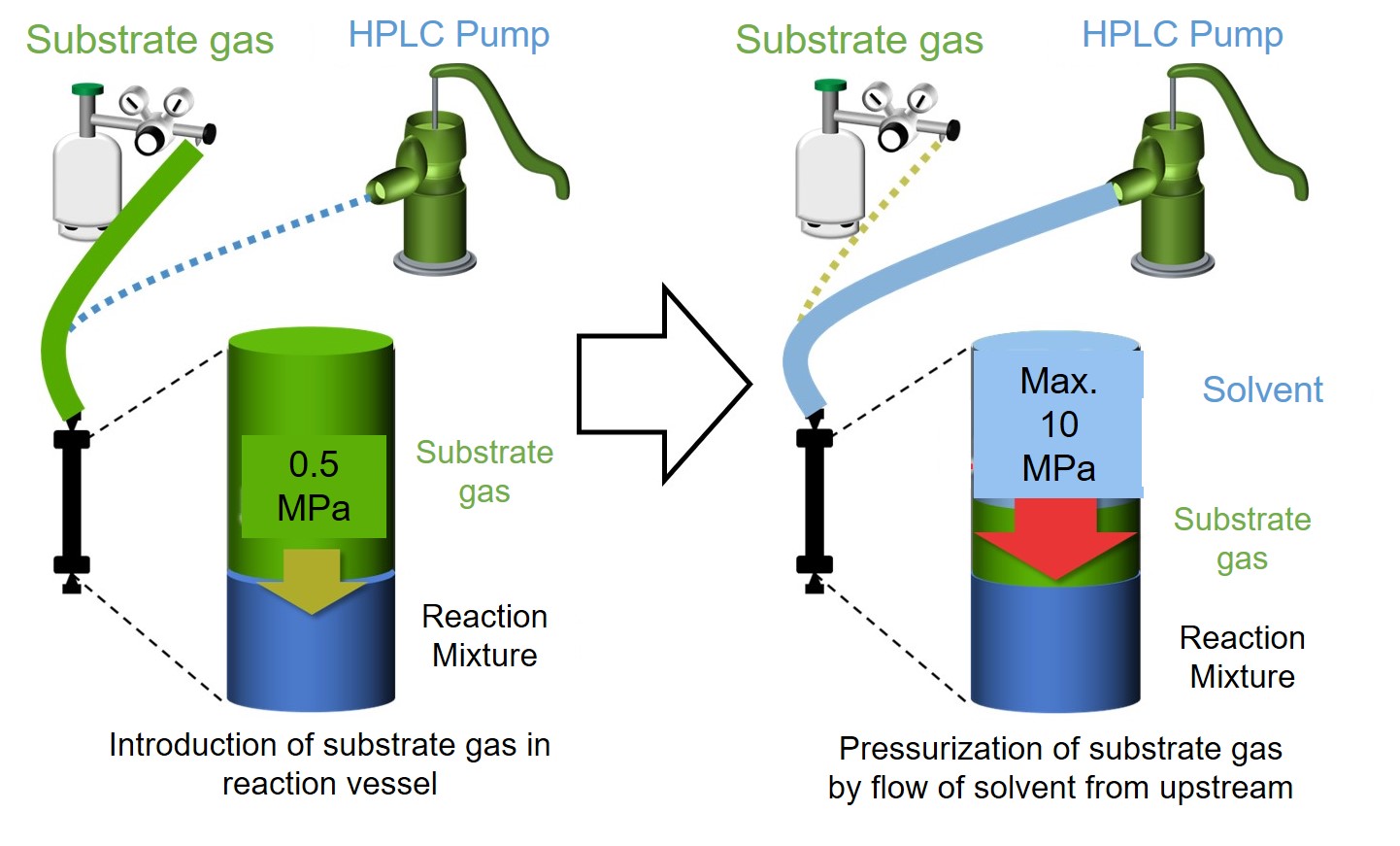 Please refer to this paper for details.
S. Ariyasu, Y. Kodama(equal contribution), C. Kasai, Z. Cong, J. K. Stanfield, Y. Aiba, Y. Watanabe, O. Shoji"Development of a High-Pressure Reactor Based on Liquid-Flow Pressurisation to Facilitate Enzymatic Hydroxylation of Gaseous Alkanes" , ChemCatChem, 11,4709-4714(2019).

https://doi.org/10.1002/cctc.201901323



Chapter 2 Episode 8: Rapid crystallization of P450BM3 by crystallization-inducing decoy molecule