Research
Lab Equipments
Science & Agricultural Building SA601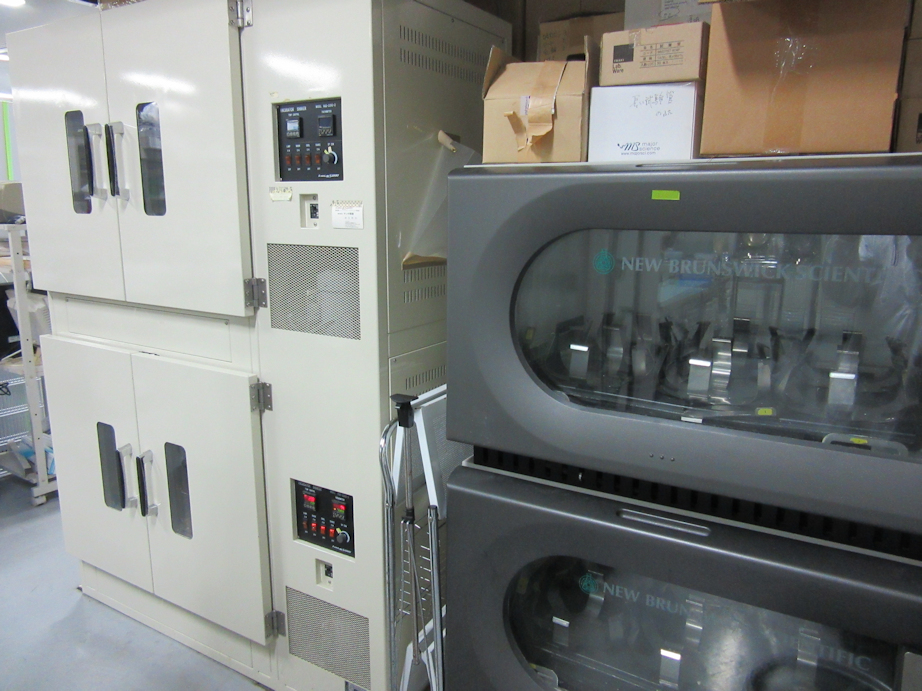 Large-scale shakers
They are possible to shake a 5L fluted Erlenmeyer flask under temperature control for large-scale culture of bacteria such as E. coli.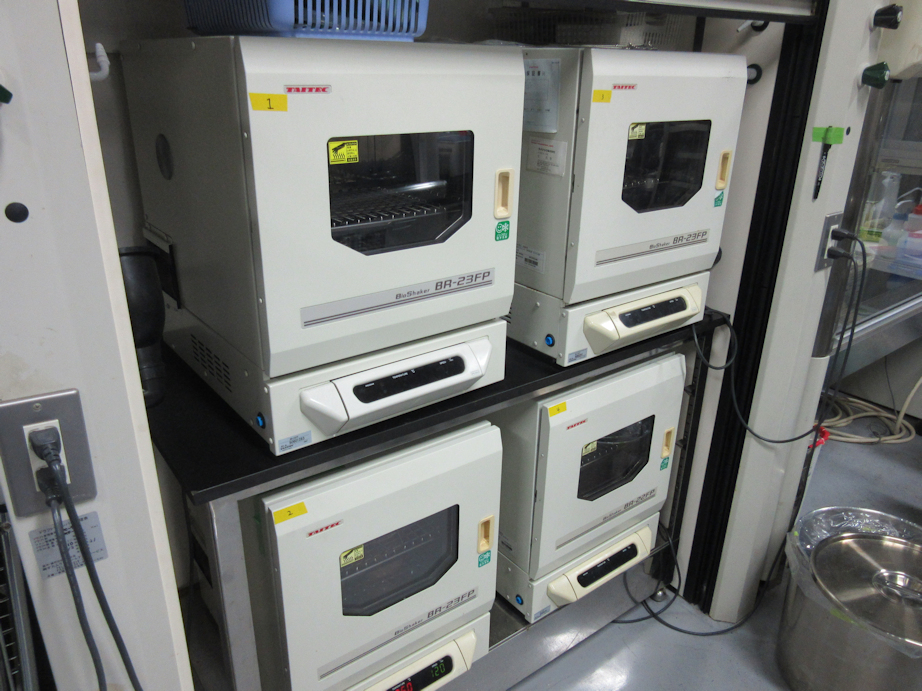 Small-scale shakers
They are used for small and medium-scale cultures of microorganisms such as E. coli. One of them can monitor the growth of microorganisms by automatic turbidity measurement.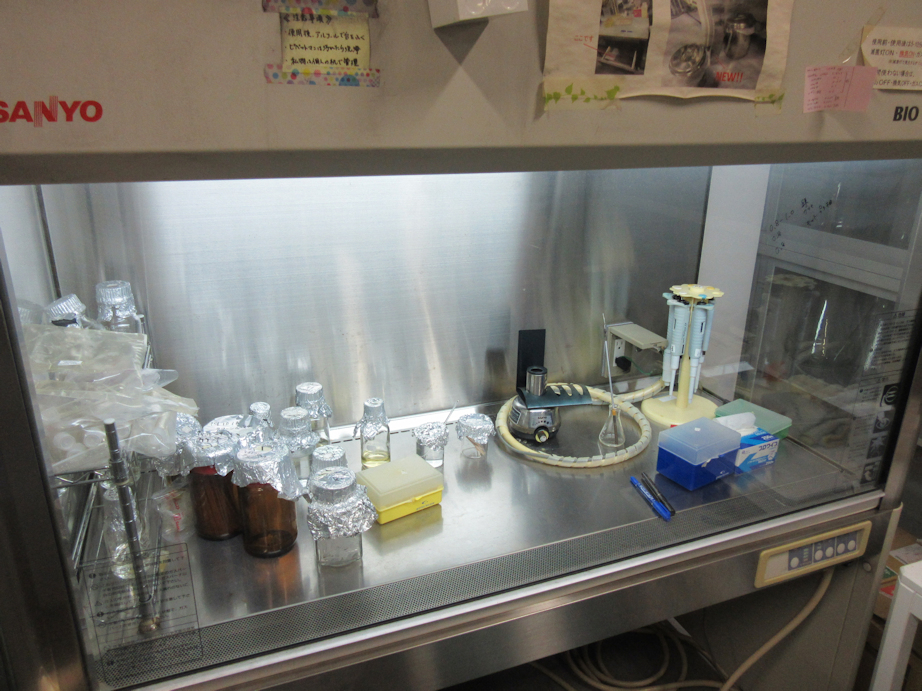 Clean benches
They are space for experiments of bacteria without contamination. It can be sterilized by ultraviolet lights, and contamination of undesired bacteria can be prevented by blowing air from the inside.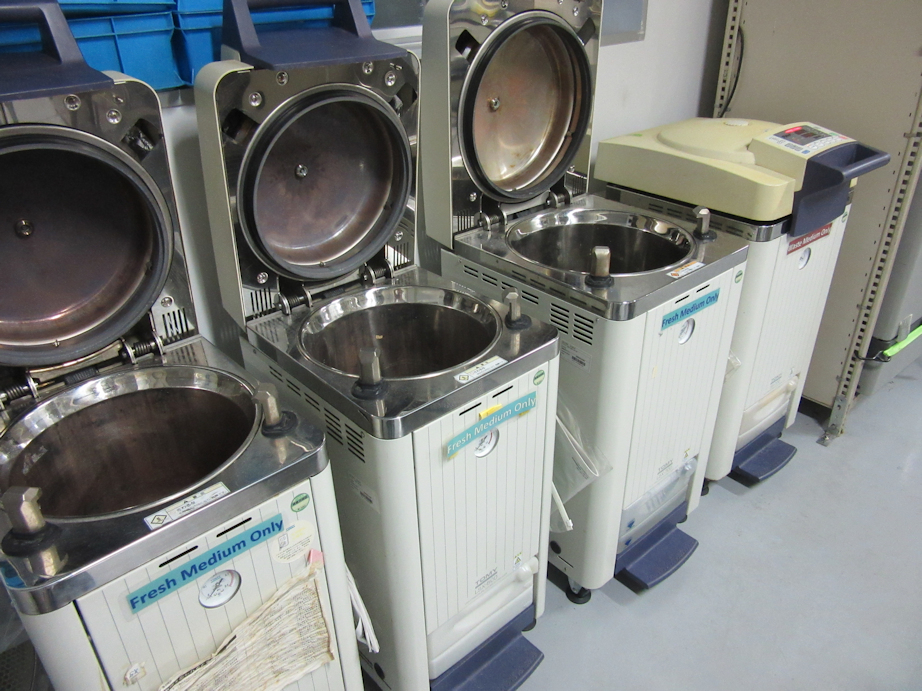 Autoclaves
They can sterilize instruments and reagents necessary for bio experiments under high temperature and high pressure.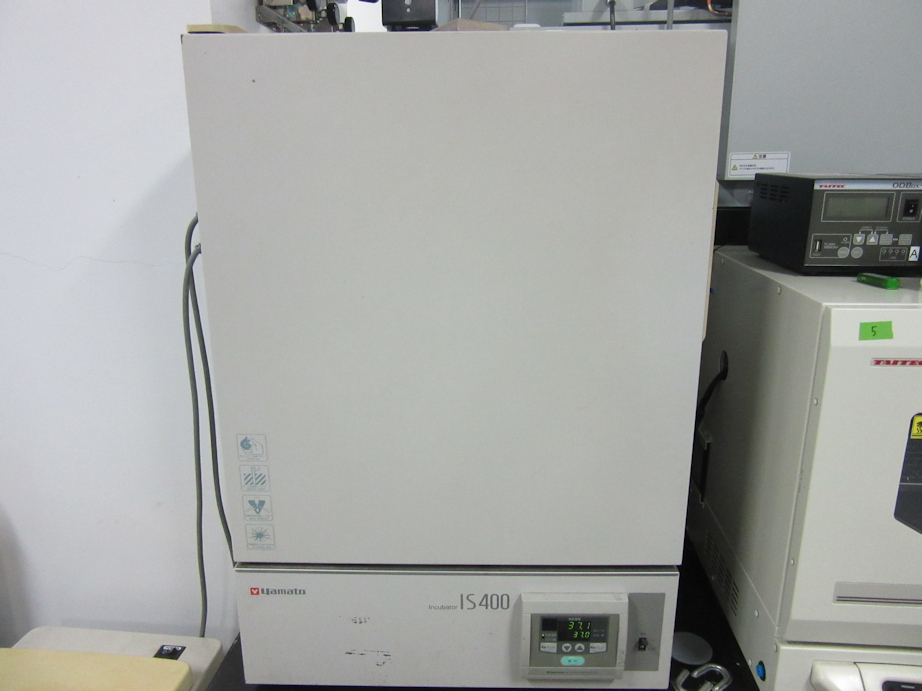 Incubators
Their inside can be kept at a constant temperature. They are used for microbial plate culture.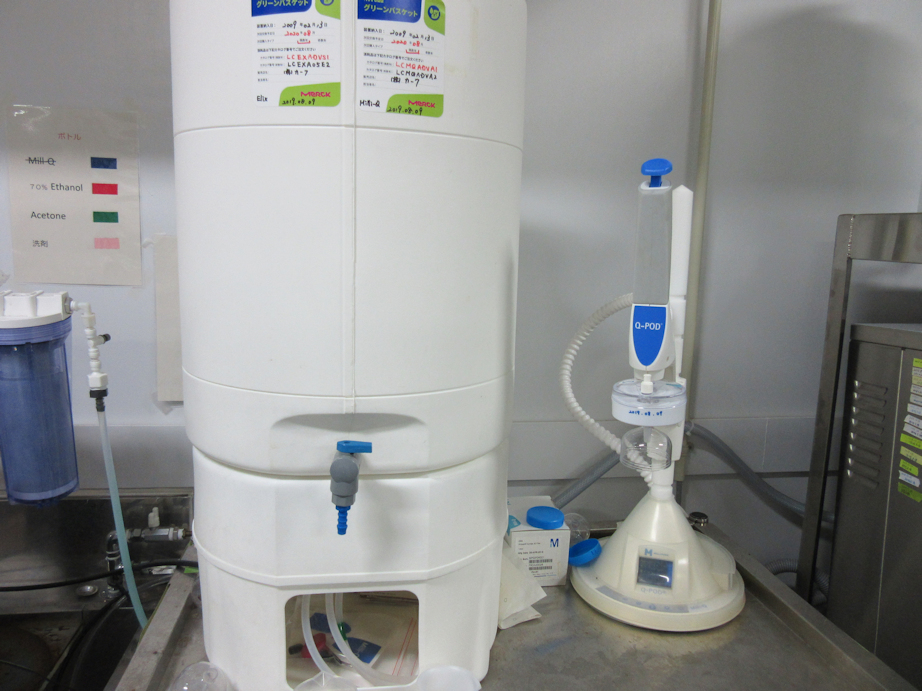 Ultrapure water production machine
It can produce ultrapure water necessary for bio-experiment.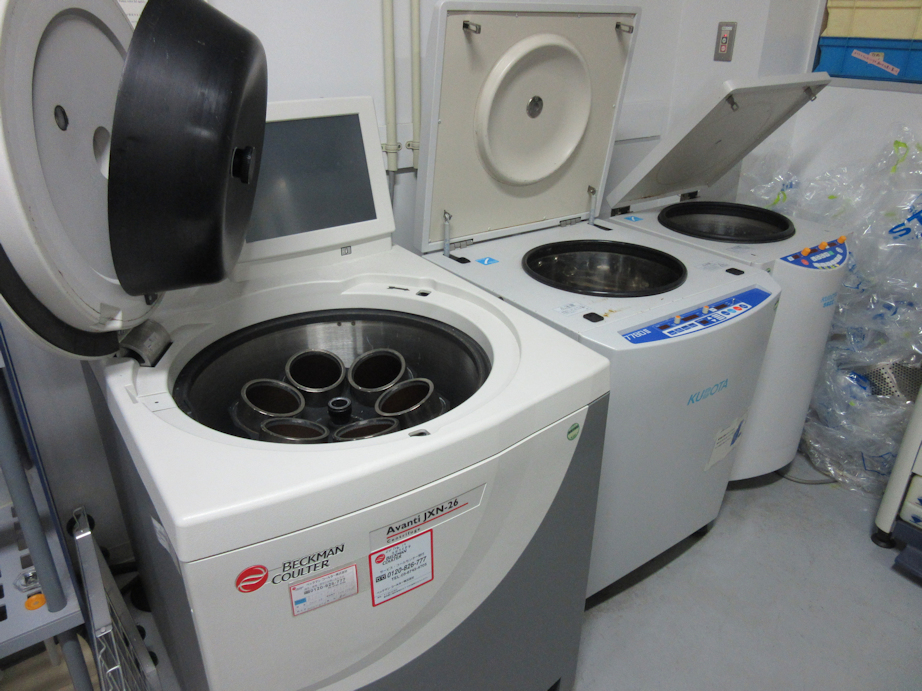 Large-scale centrifuges
They are devices that can separate the components based on their weight by high centrifugal force. It is mainly used to separate crushed microorganisms and supernatant.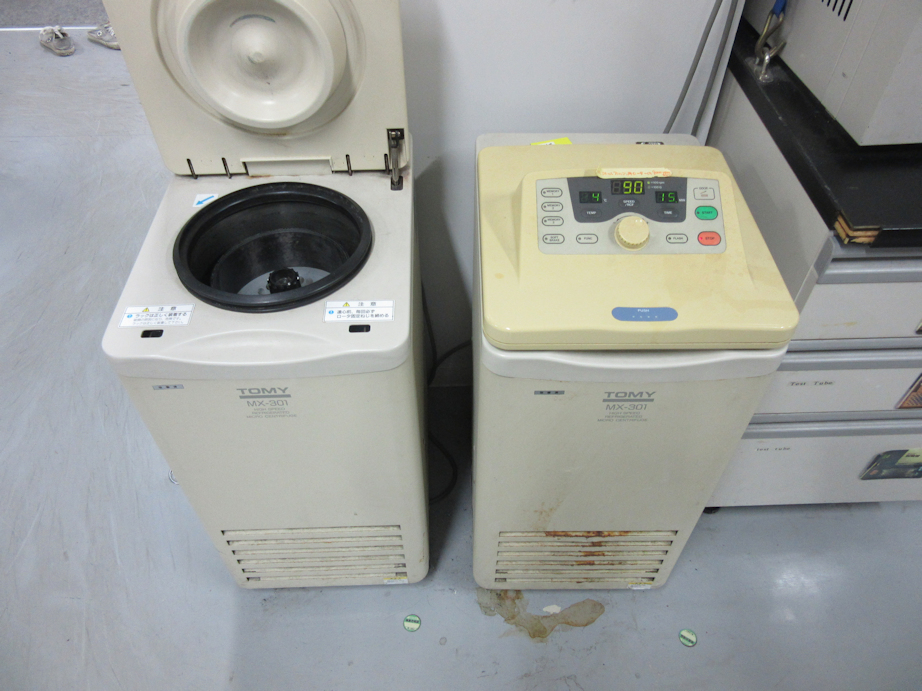 Small-scale centrifuges
They are devices that can separate the components based on their weight by high centrifugal force. These are conventional centrifuges for bio-experiments with microliter to milliliter samples.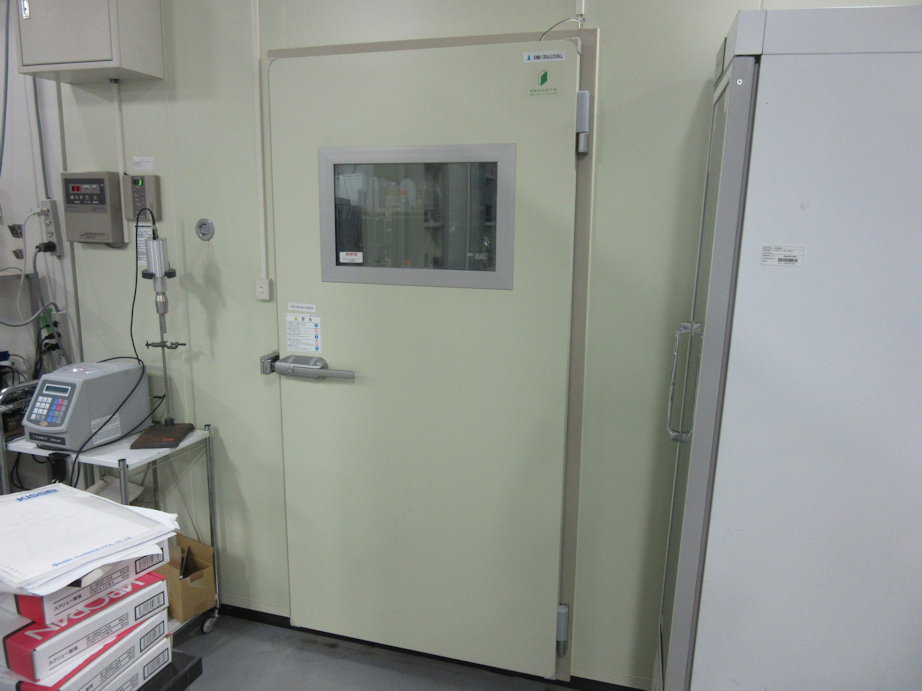 Cold rooms
Their room temperatures are kept at 4 degree. They are used for protein purification, enzyme reaction and storage of biological samples.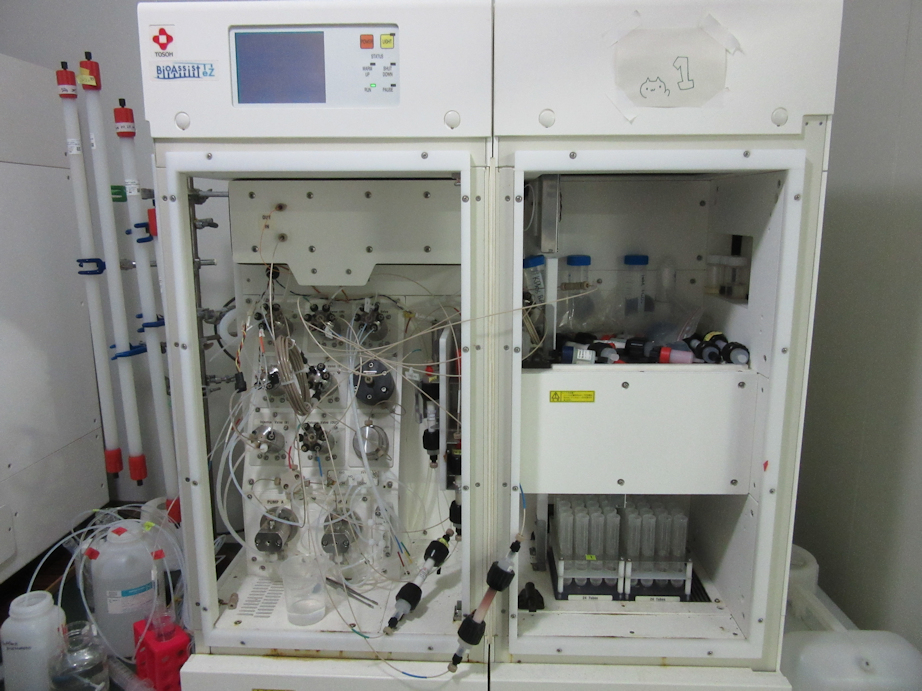 Protein-purification chromatography systems(TOSOH)
They are chromatography systems that automatically purifies proteins. There are 4 systems in the cold room.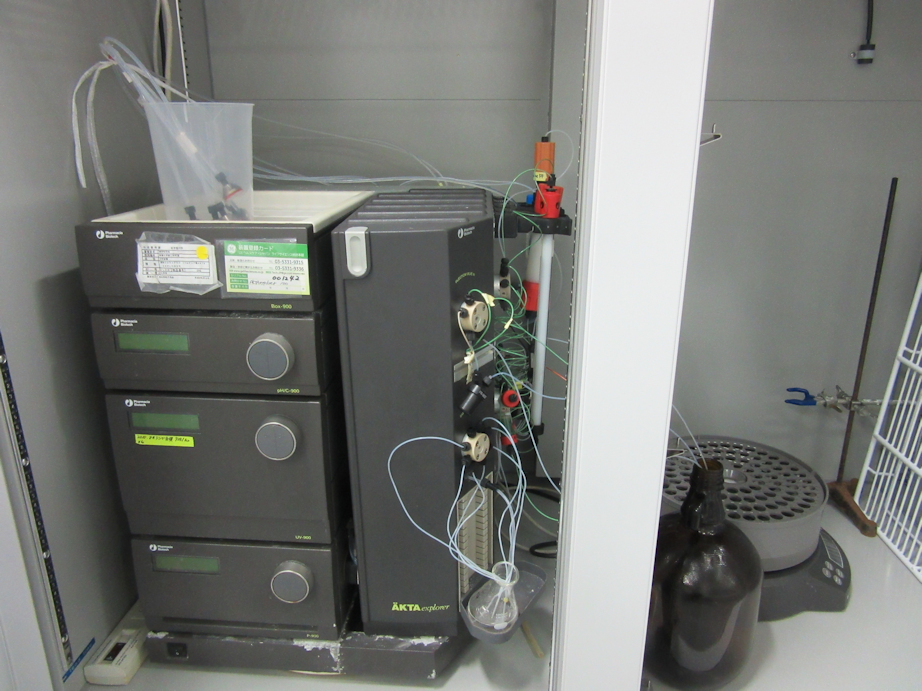 Protein-purification chromatography systems(AKTA)
They are chromatography systems that automatically purifies proteins. There are two systems in the chromatography-chambers kept at 4 ℃.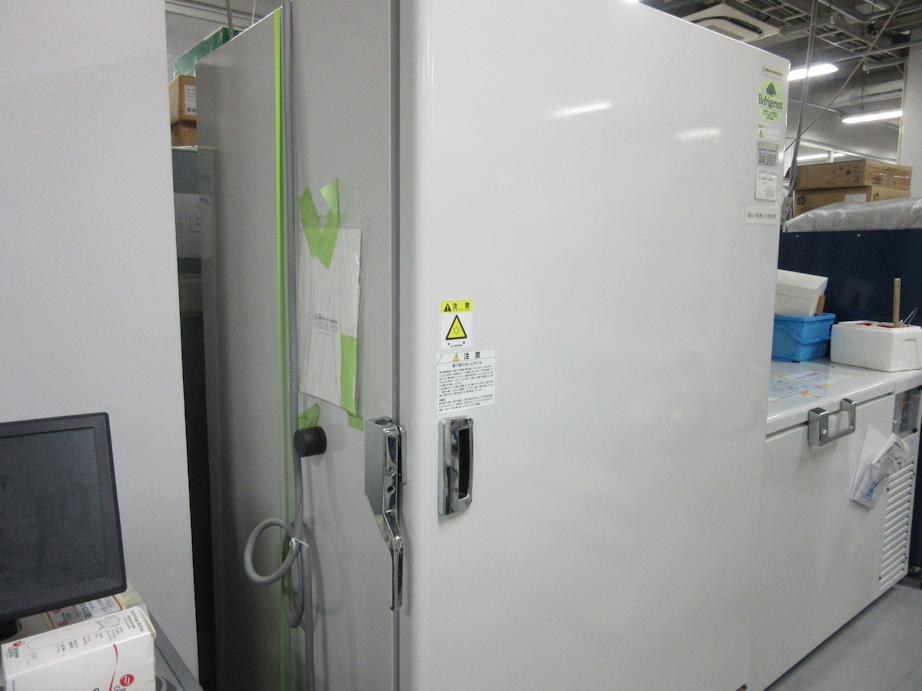 Deep freezers
They are –80ºC freezers. They are used for storage of fragile biological samples such as bacterial cells and plasmids.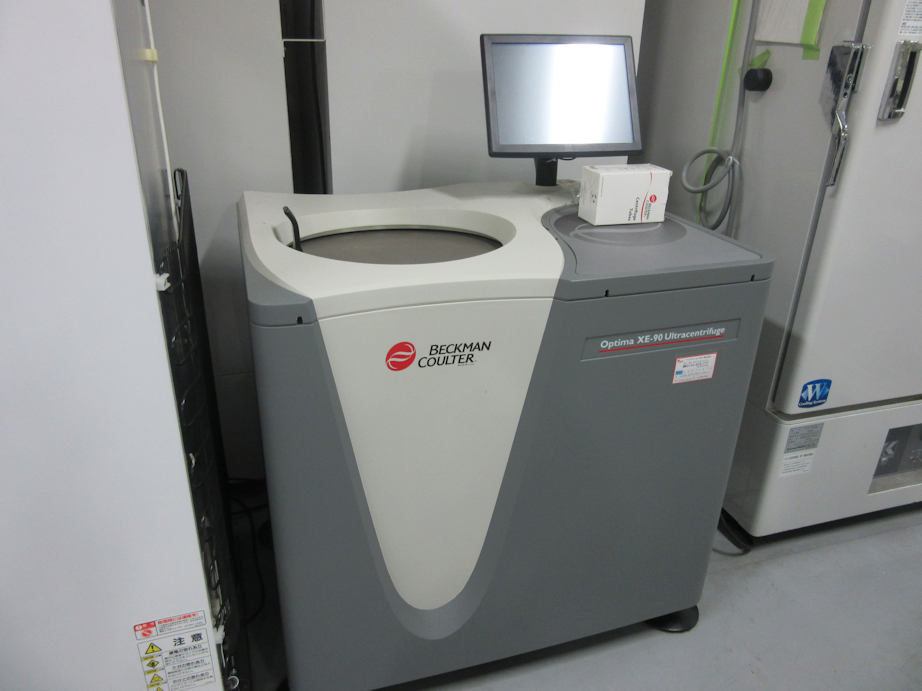 Lage-scale ultracentrifuge
It is possible to centrifuge more strongly than normal centrifugation by applying a vacuum during rotation. It is used for fractionation of cell components.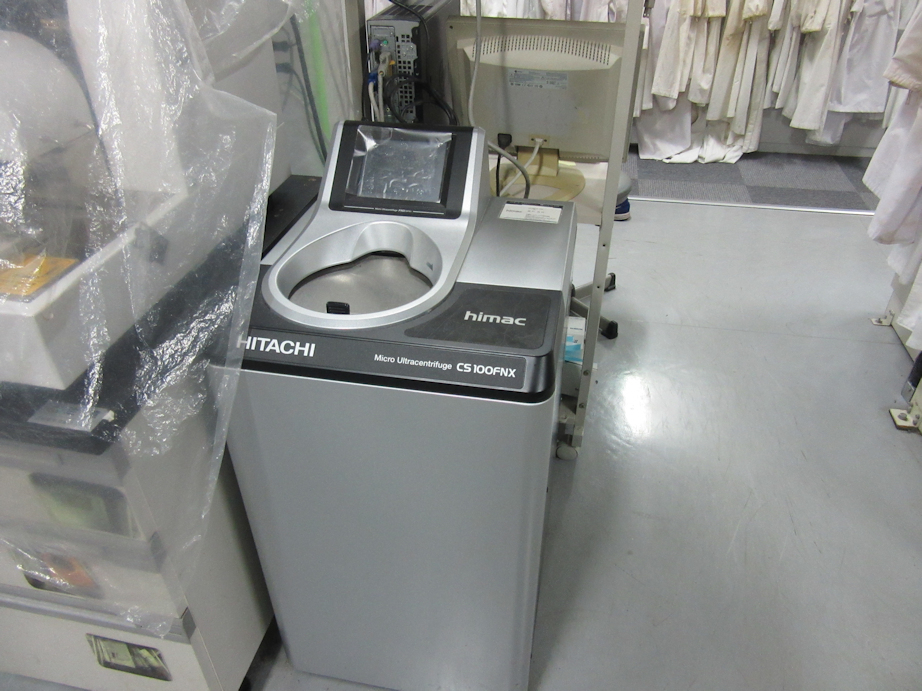 Small-scale ultracentrifuge
It is possible to centrifuge more strongly than normal centrifugation by applying a vacuum during rotation. It is more compatible with small-scale experiments than large-scale equipment.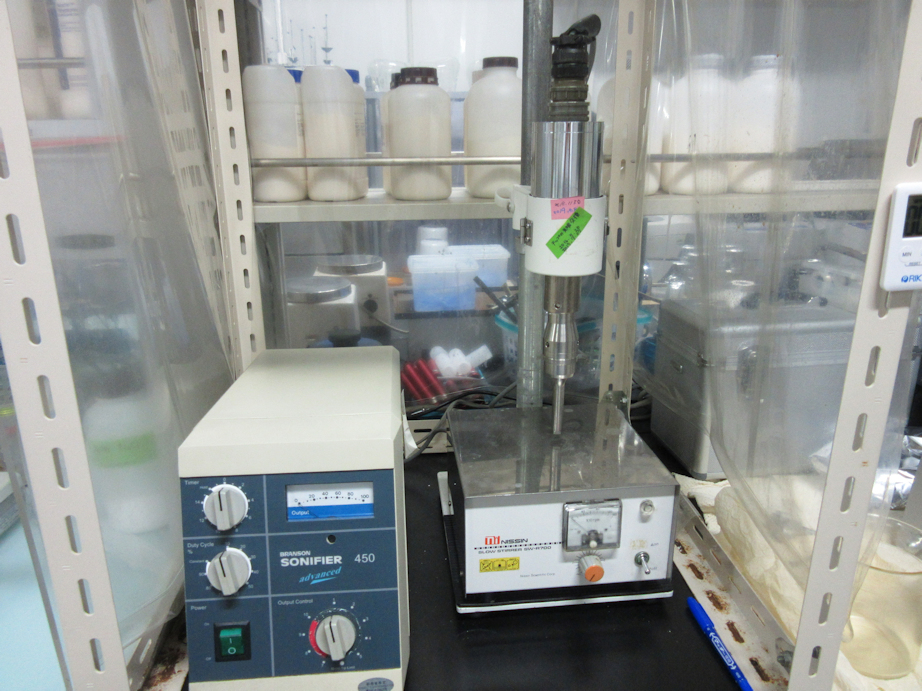 Ultrasonic cell homogenizers
They can generate powerful ultrasonic waves. They are mainly used for cell homogenization of bacteria such as E. coli.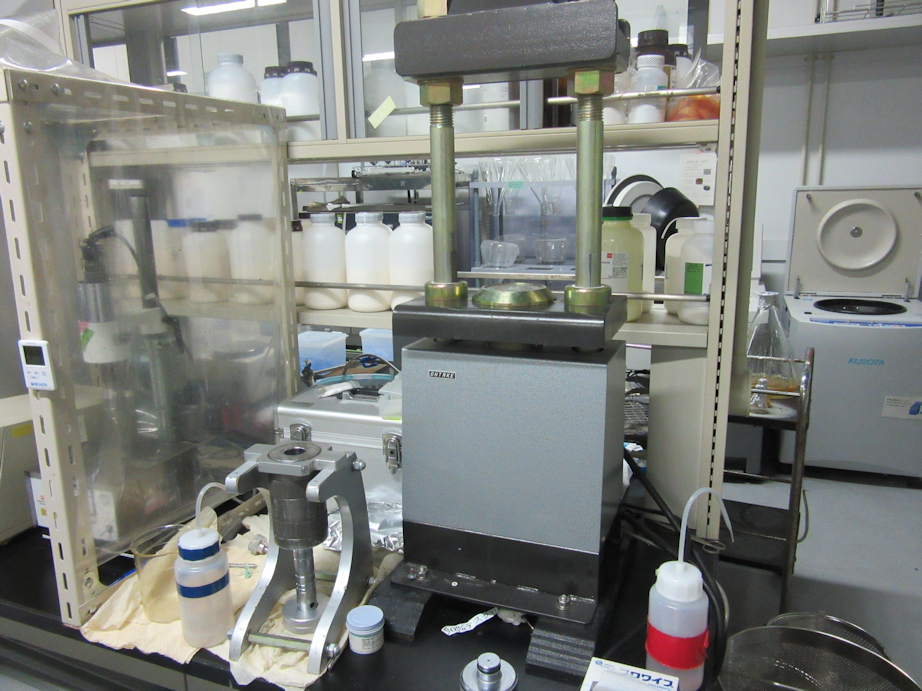 French press
It can homogenize bacteria such as E. by compression.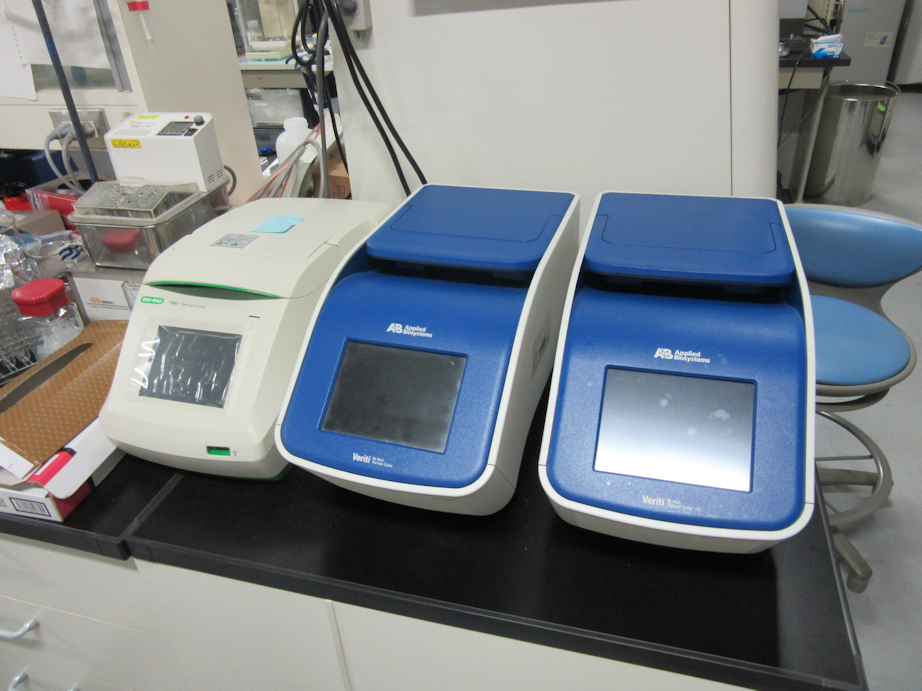 Thermal cyclers
They are used to amplify target DNA by PCR reaction.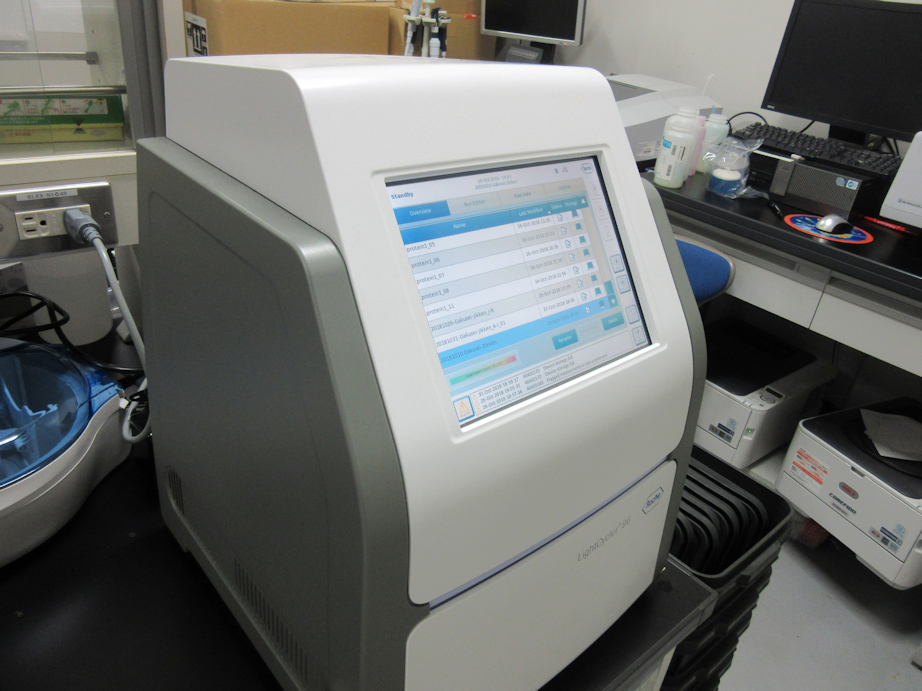 Real-time PCR
PCR reactions can be monitored in real time. It is used in quantification of mRNA in combination with reverse transcription.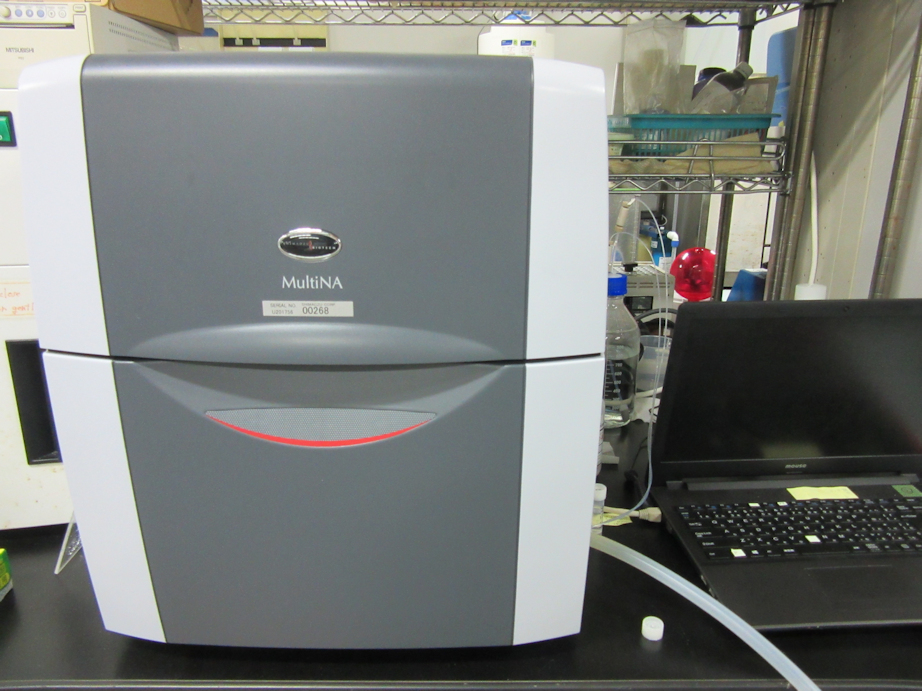 Micro-tip electrophoresis(MultiNA)
It can obtain data equivalent to agarose gel electrophoresis without gel preparation by electrophoresis using a microchip.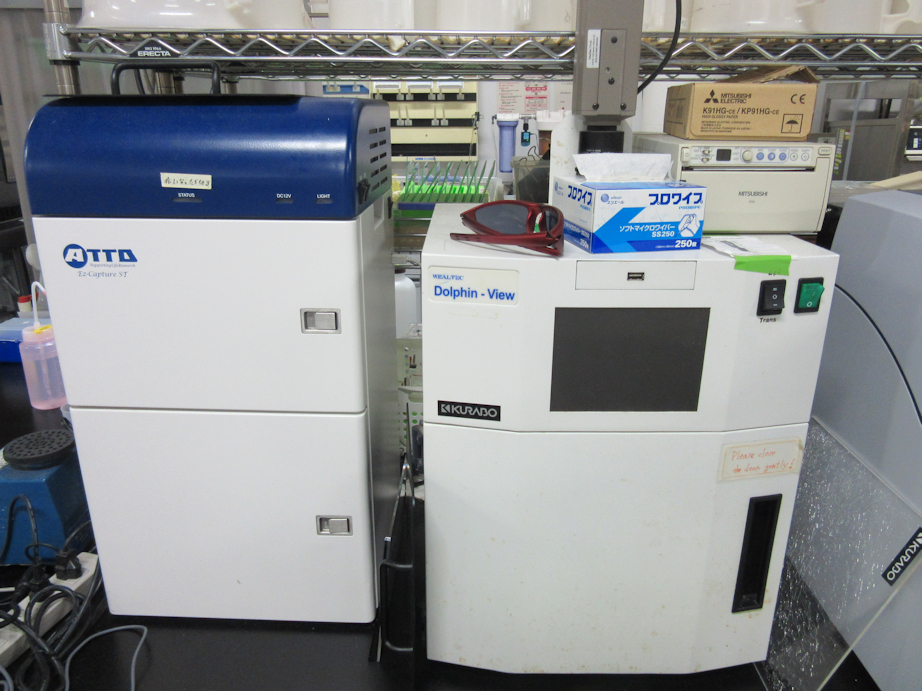 Gel imaging machines
They are machines for photographing electrophoresis gels such as SDS-PAGE for analyzing protein purity.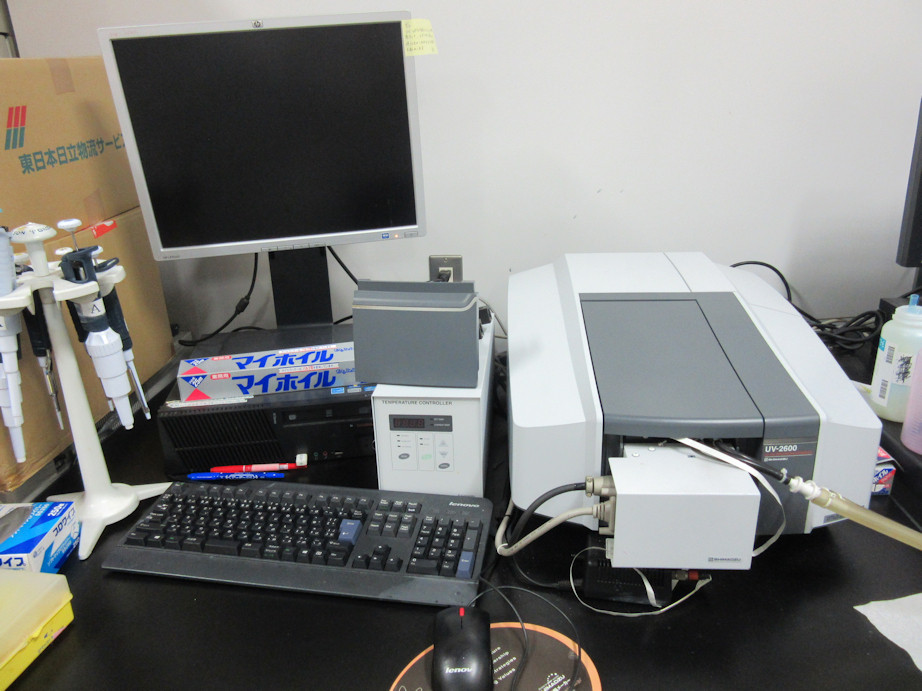 UV-visible spectrophotometers
These photometers can measure the absorption in ultraviolet and visible light-region. They are used in a wide range of experiments, such as confirmation of protein purification and properties, evaluation of photochemical properties of metal complexes, monitoring of enzymatic reactions, and quantification of compounds.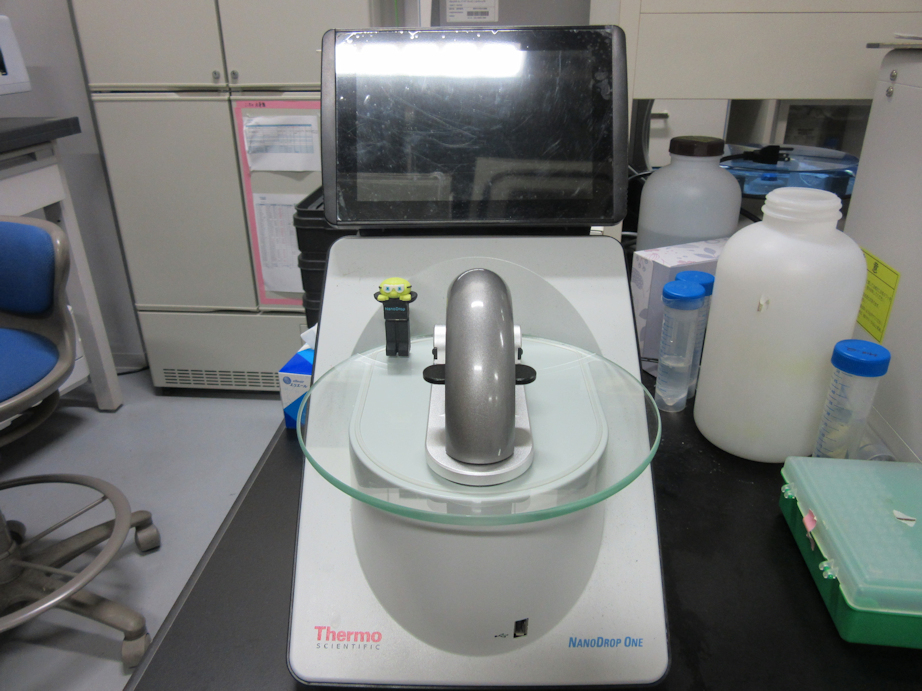 Ultra-small-scale spectrophotometer
UV-visible absorption spectra can be measured with one drop of samples. It is used for small scale samples such as DNA.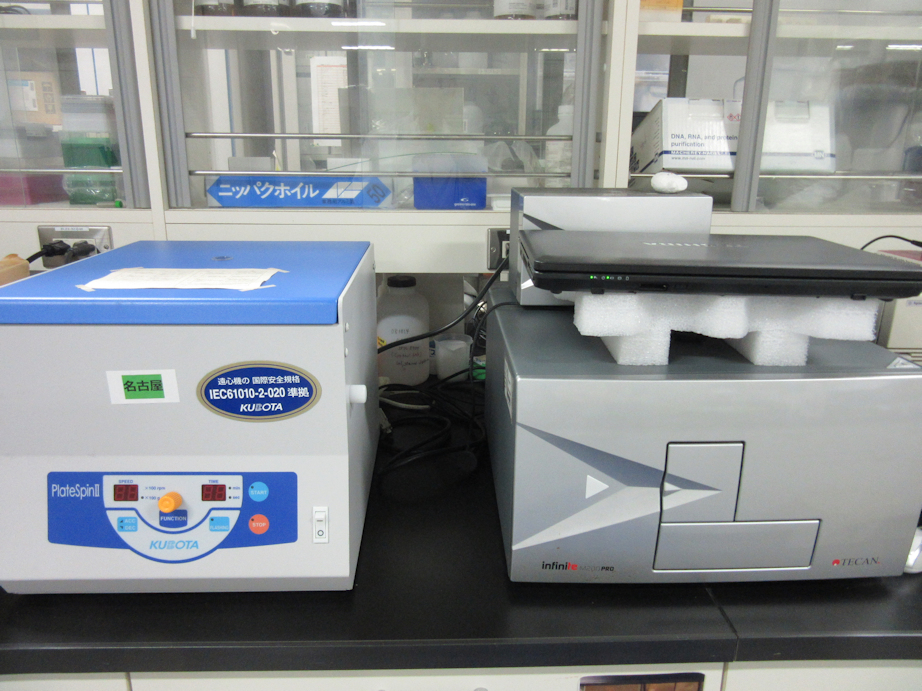 Plate reader
Absorbance and fluorescence intensity of samples in 96-well plate can be measured quickly. It is used for screening in enzymatic reaction and cytotoxicity-evaluation.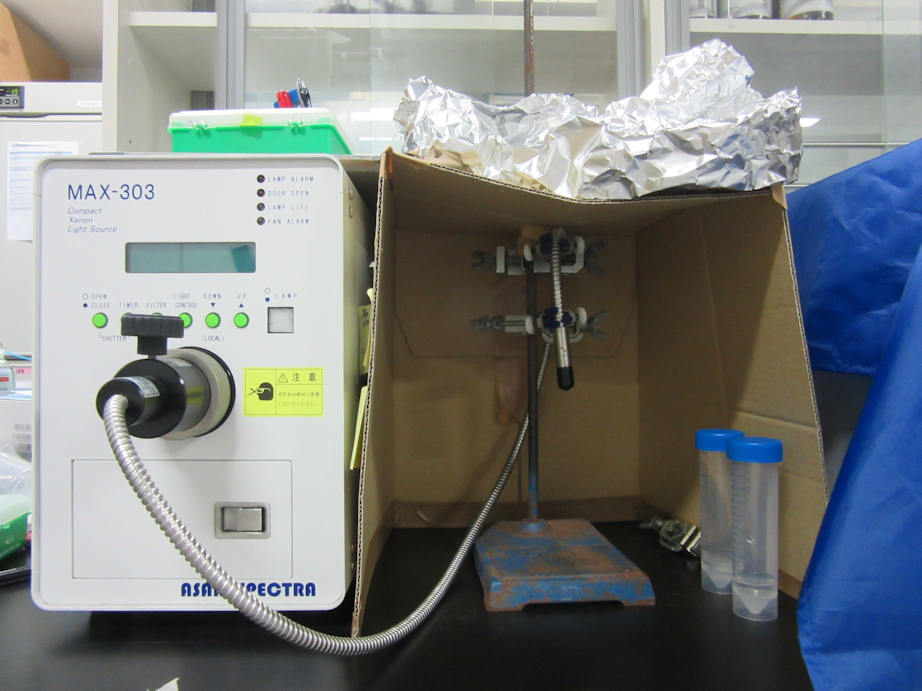 Photoirradiator
It is light source that irradiates a sample with a specific wavelength using optical filters. It is used for photodynamic sterilization of Pseudomonas aeruginosa.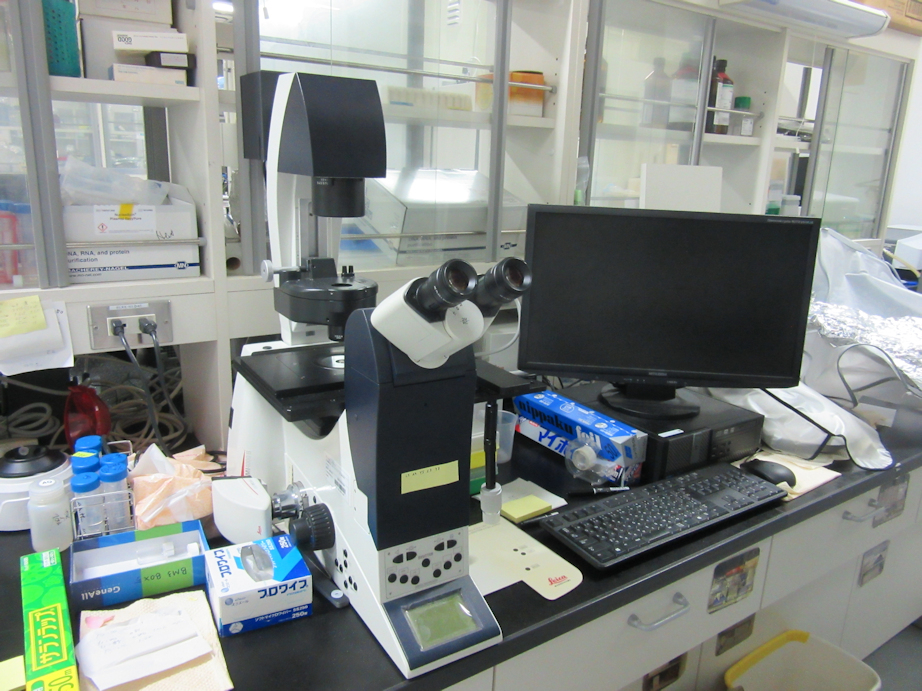 Fluorescence microscopy
In addition to morphological observations of microorganisms such as Pseudomonas aeruginosa and mammalian cells, it is also possible to visualize localization of fluorescent-labeled samples and determine the viability of microorganisms.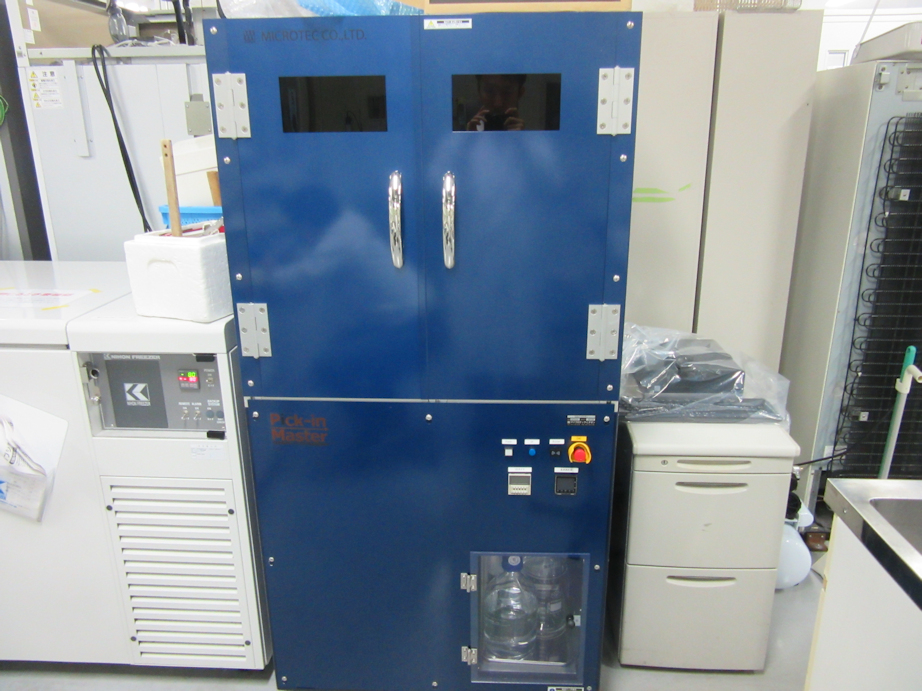 Colony picker
It is possible to automatically transfer colonies of microorganisms generated by plate culture one by one to a 96-well plate. It is used for directional evolution of proteins.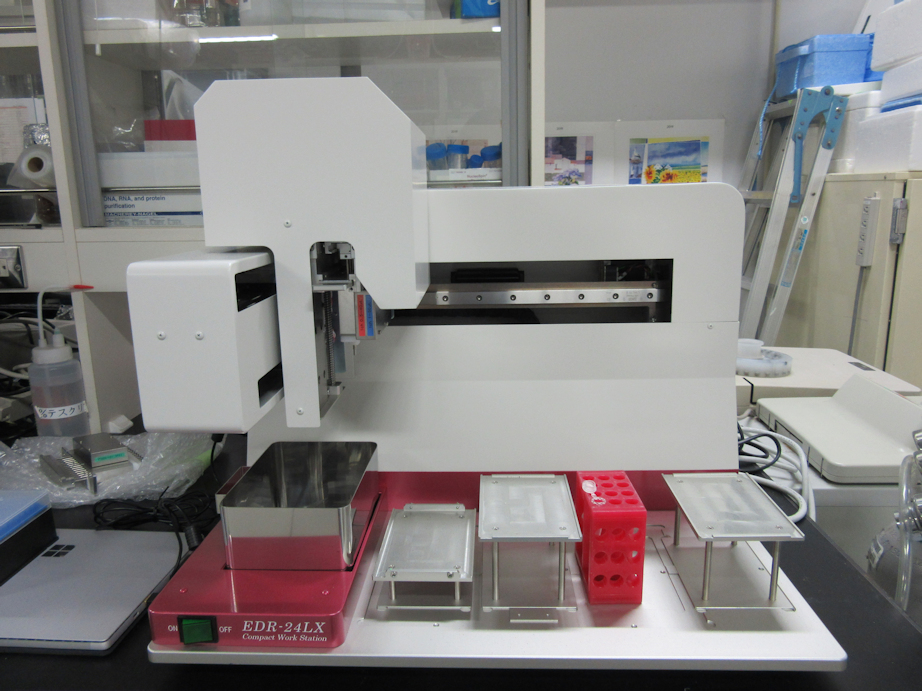 Automatic pipet machine
It can automatically control 12-channel pipets for preparation of assay samples in 96-well plates.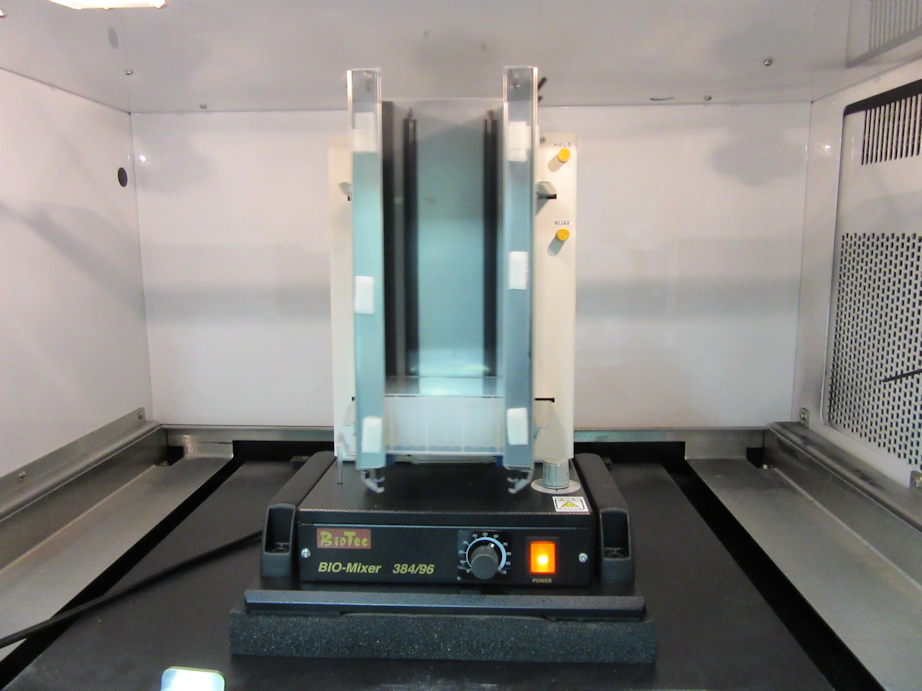 Plate mixer
It can mix 20 well plates at same time.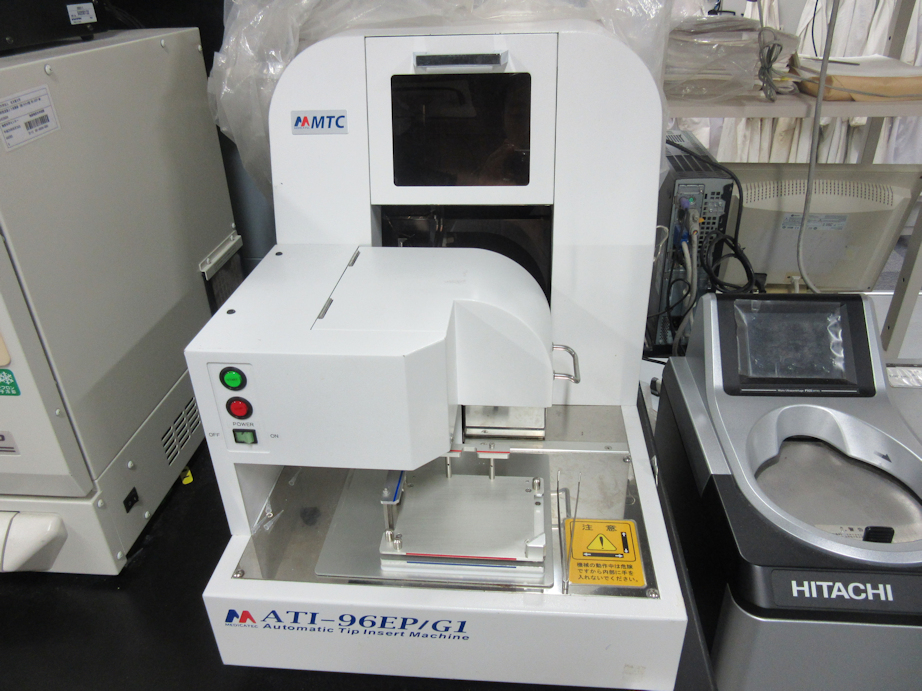 Automatic pipet tip packing machine
This machine automatically packs white chips into a rack.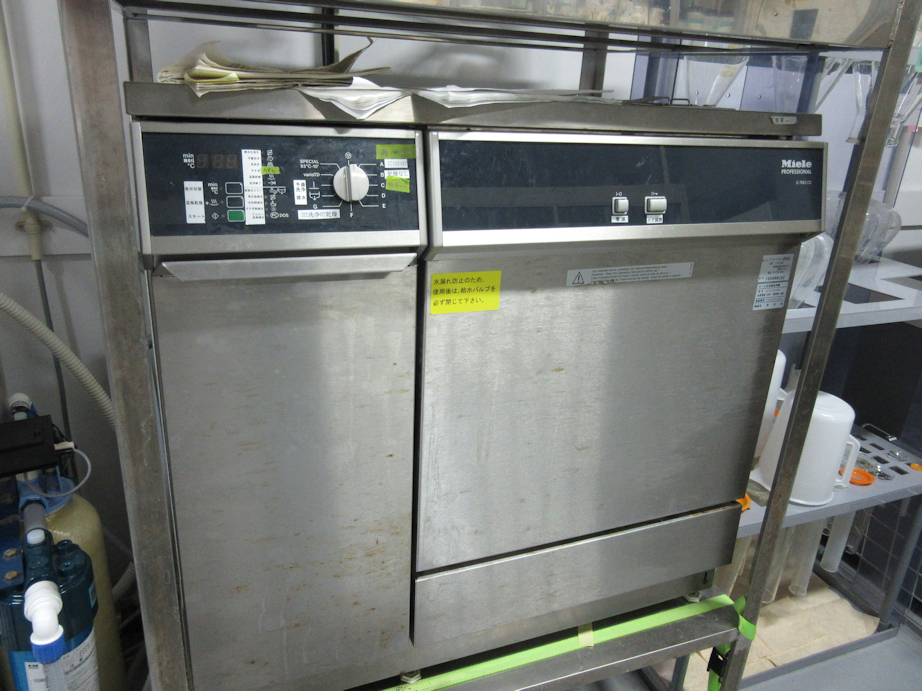 Automatic glassware-washer
It can automatically clean used glassware. It is efficient without washing the equipment by hand.
Science & Agricultural Building SA616

Rotary evaporaters
They can concentrate and distill solvent. Since the process is performed under reduced pressure, the boiling point of the solvent is lowered and the solvent is easily evaporated.

Automatic column chromatography
The synthesis mixture is automatically passed through the silica gel column, and only the target compound can be efficiently isolated using a UV-vis detector.

Vacuum lines
It is a glass line necessary for handling air labile compounds.

Fume hoods
They are exhaust equipment installed in the synthesis room. The reaction that generates harmful gas is performed in these.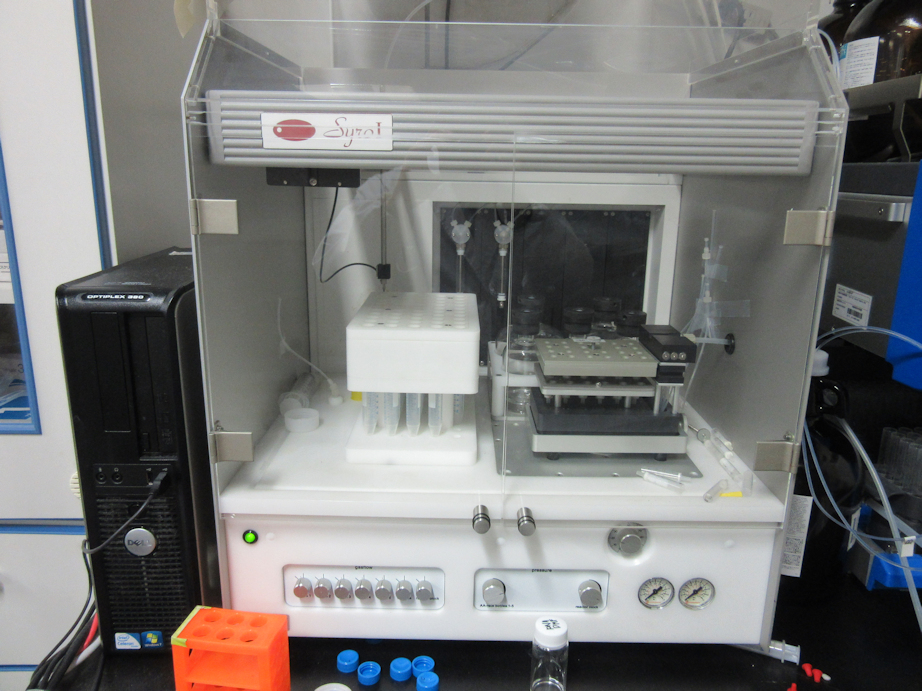 Automatic peptide synthesizer
This machine can automatically synthesize peptides by repeating amino acid condensation and deprotection.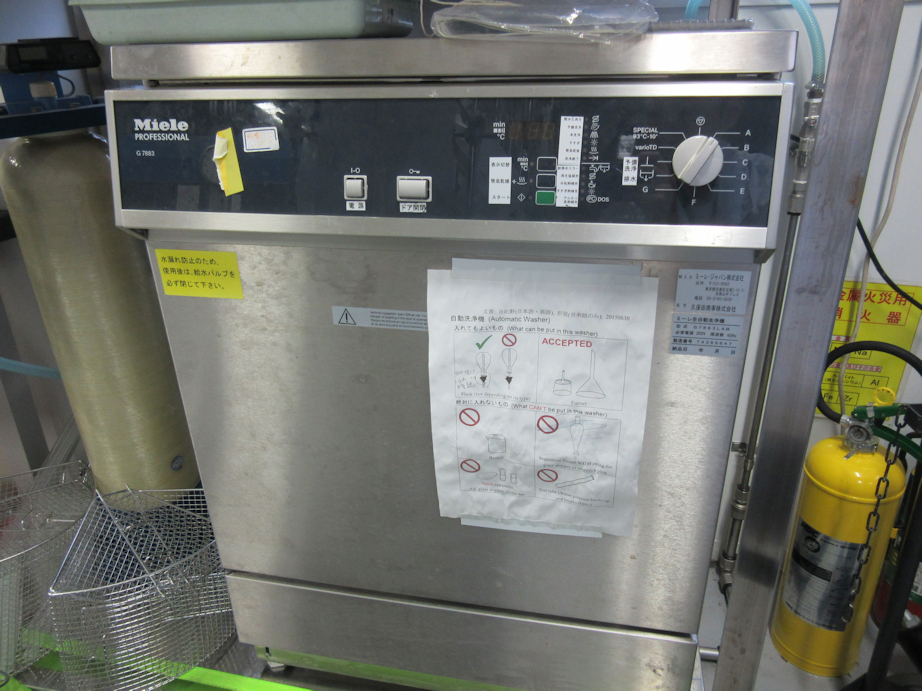 Automatic glassware-washer
It can automatically clean used glassware. It is efficient without washing the equipment by hand.
Science & Agricultural Building SA621

Stopped-flow spectrophotometer
Two or more types of solutions are mixed at high speed, and UV-visible light absorption of the reaction of the mixed solution is measured.

Glove boxes
(Glovebox : MIWA DBO-1-0)
Spaces filled with inactive argon gas, in which air unstable substances can be handled. Electrochemical measurement is also possible to be performed in glove box.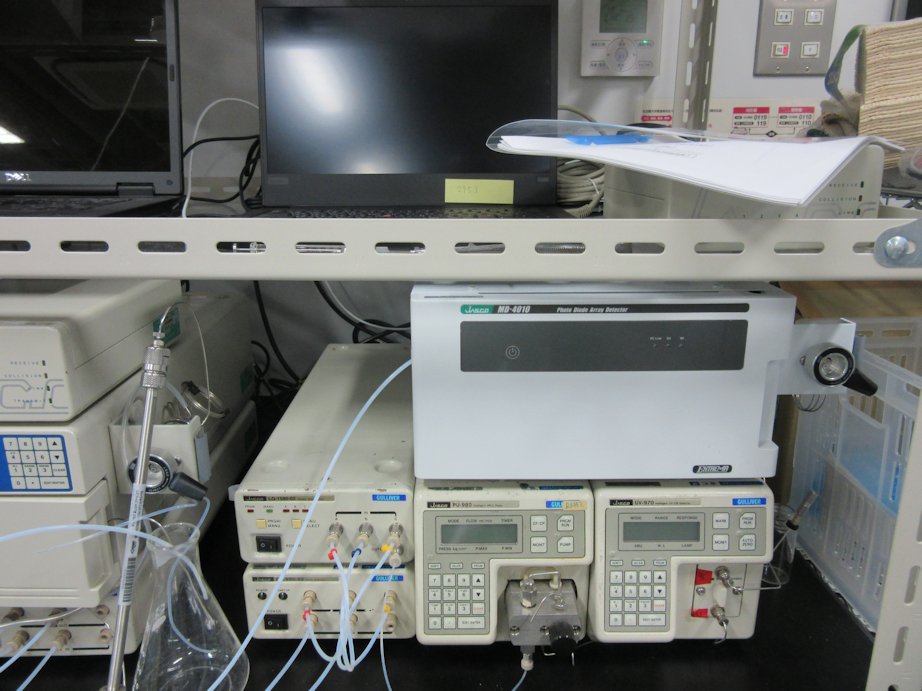 High-performance liquid chromatography systems(HPLC)
The product is isolated and analyzed by passing the reaction solution through the column and flowing solvent at high pressure and high flow rate. Products can be detected by ultraviolet / visible light absorption, fluorescence, and conductivity.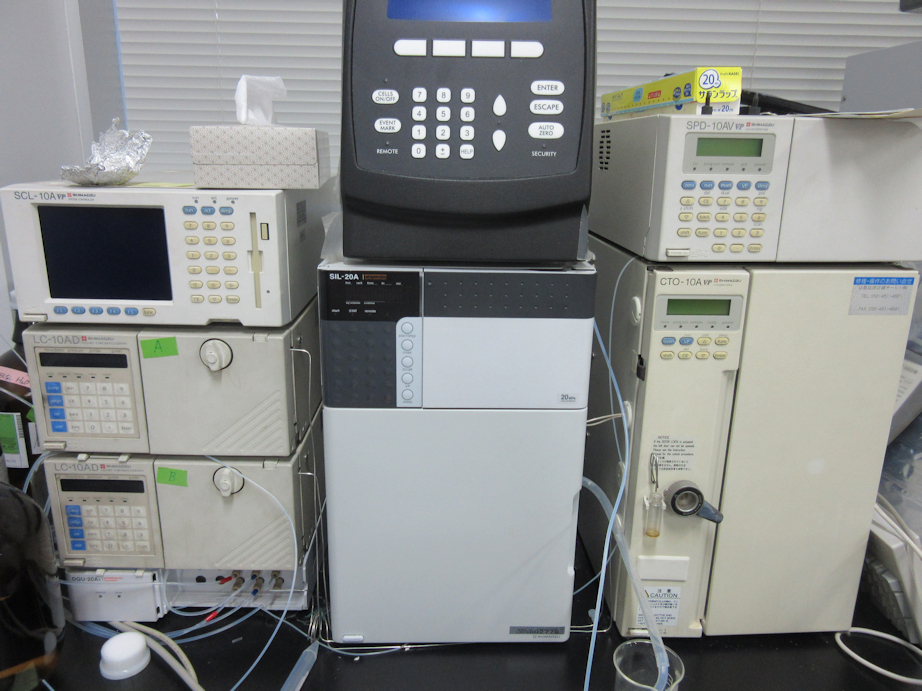 Autosampler-linked HPLC
Auto sampler can perform automatic HPLC analyses by just setting a sample. It is mainly used to evaluate enzymatic reactions of multiple samples.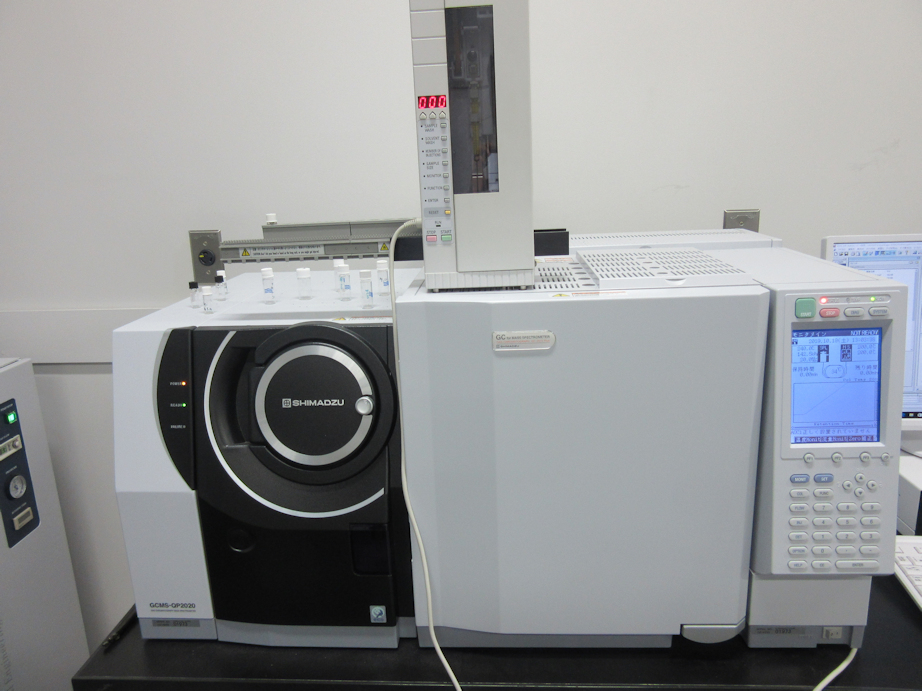 Gas chromatography systems(GC、GCMS)
These machines that can separate and analyze compounds in a sample by vaporizing the sample at a high temperature. In addition to general FID detection, we have three GCMS that link mass spectrometry system with GC. They are mainly used to identify reaction products.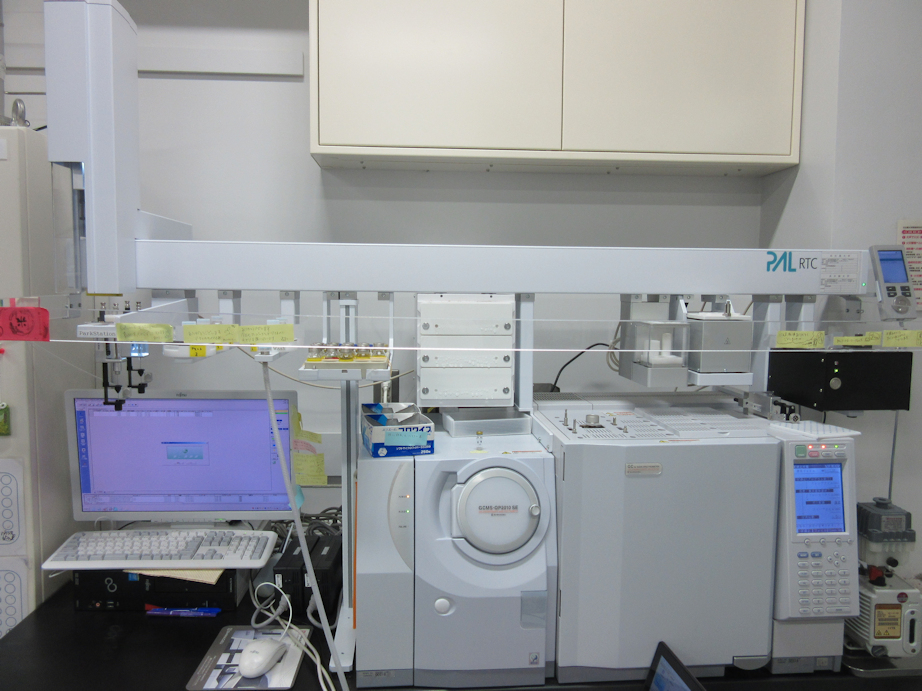 Multifunctional auto sampler(PAL)
PAL is an autosampler with fully automatic pre-processing function linked to GCMS. It consists of various parts such as solution injection using 3 syringes, heating and stirring, vortexing, centrifugation, GCMS injection, etc. and can be performed fully automatic sample preparation and GCMS analysis.

Fluorescence photometer
By measuring the fluorescence spectrum, the properties and concentration of the sample are examined. It is used for reaction monitoring in experimental systems using fluorescent materials.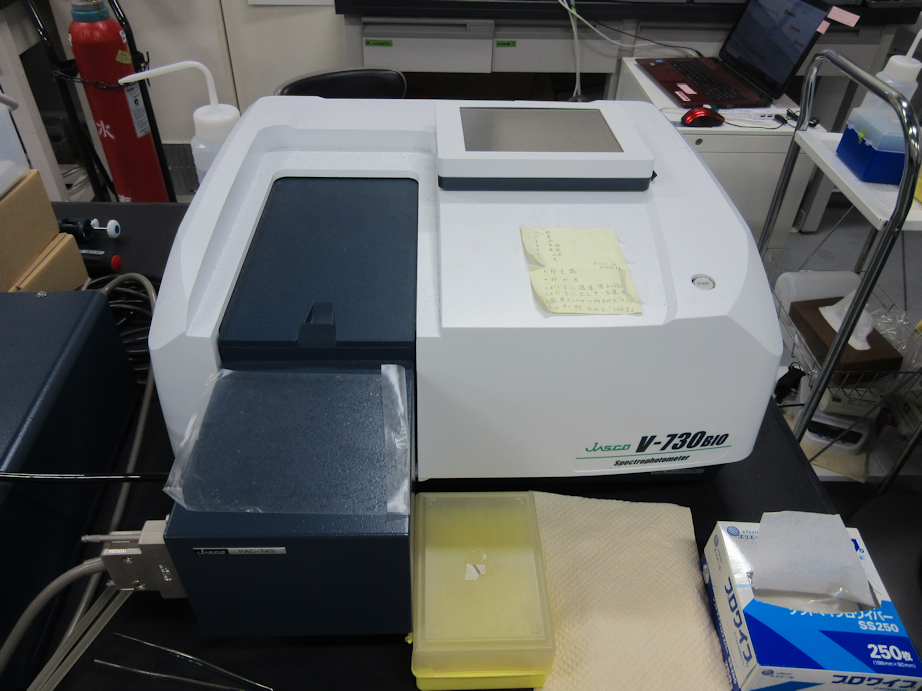 UV-visible photometer for Tm measurement
It is possible to evaluate double-stranded stability such as DNA.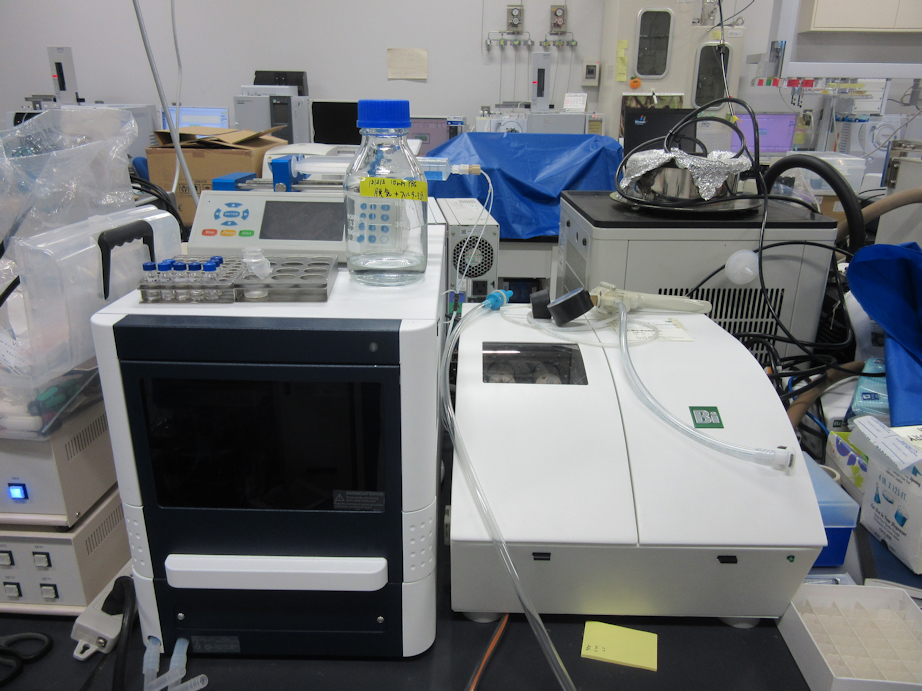 Surface plasmon resonance spectrometer(SPR)
Samples fixed on a gold substrate are prepared, a solution containing interacting compounds is flowed, surface plasmon resonance that changes due to binding with the sample is measured, and the binding force and binding kinetics between compounds can be measured.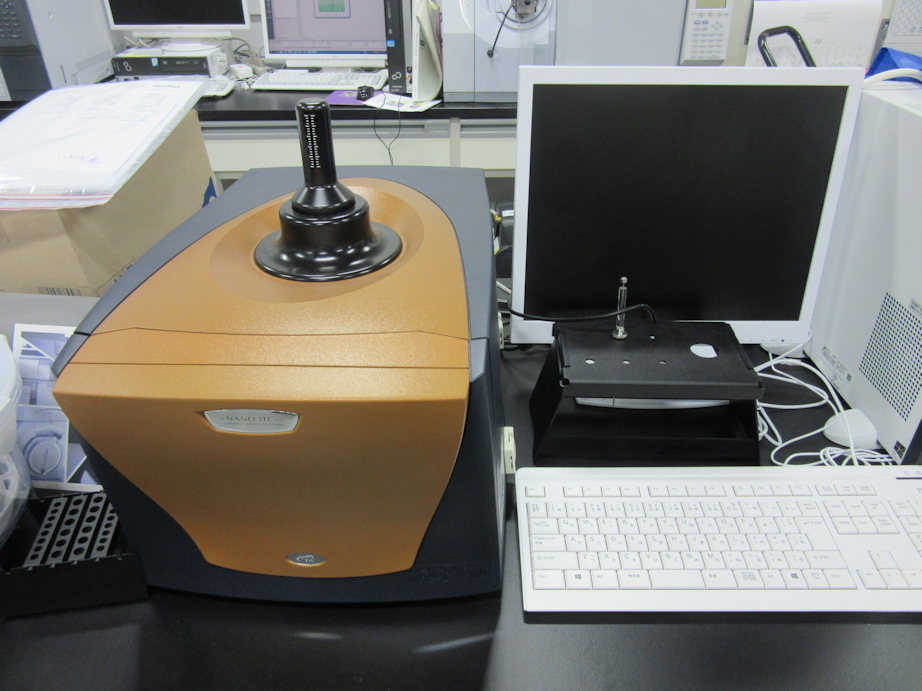 Isothermal colorimetry (ITC)
By titrating a solution containing an interactive compound into a cell containing a sample and monitoring the resulting thermal change, it is possible to measure the binding affinity between two compounds and the thermodynamic parameters.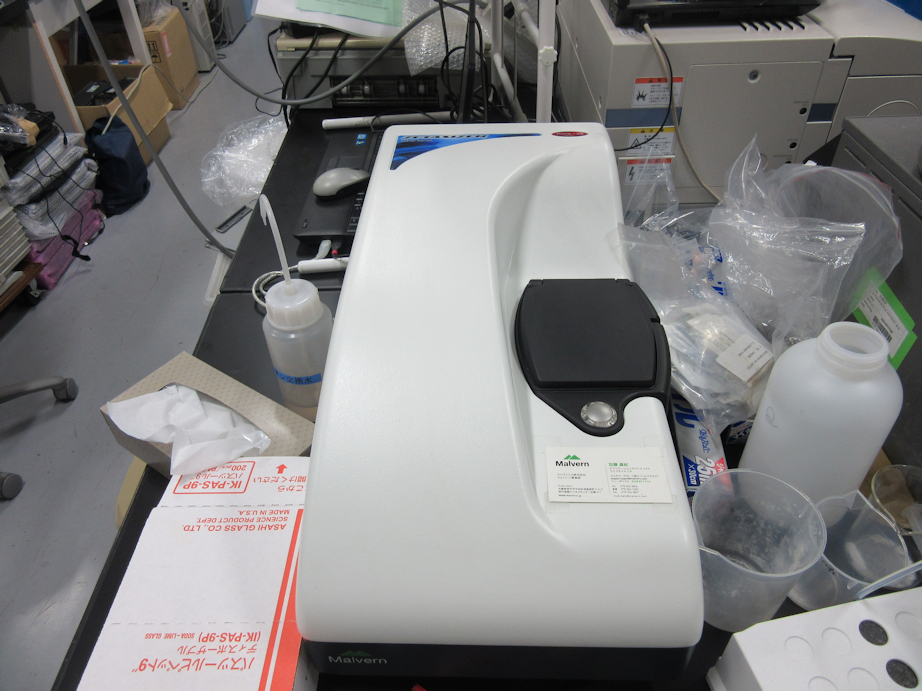 Dynamic light scattering(DLS)
This equipment measures the light scattering of macromolecules such as proteins and estimates the molecular size of macromolecules.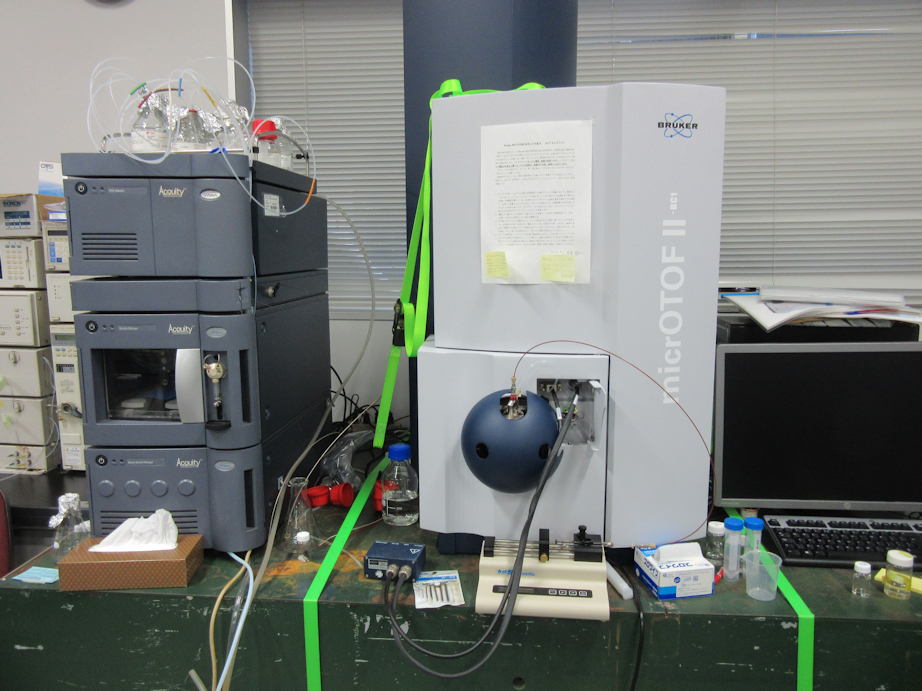 ESI-MS
This equipment that sprays a solution containing samples in the form of a spray, ionizes the compounds, and analyzes their mass values. It can measure the molecular weight of not only organic compounds but also macromolecules such as proteins. It can be operated as LC-MS in conjunction with HPLC.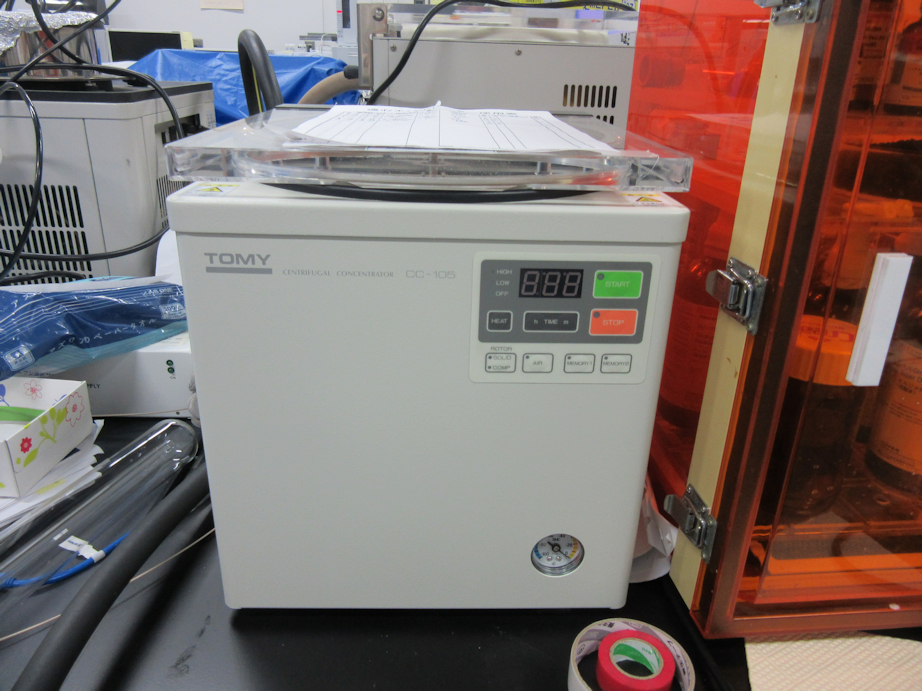 Cetrifugal evaporator
It is possible to concentrate small-scale solutions by reducing the pressure while centrifuging.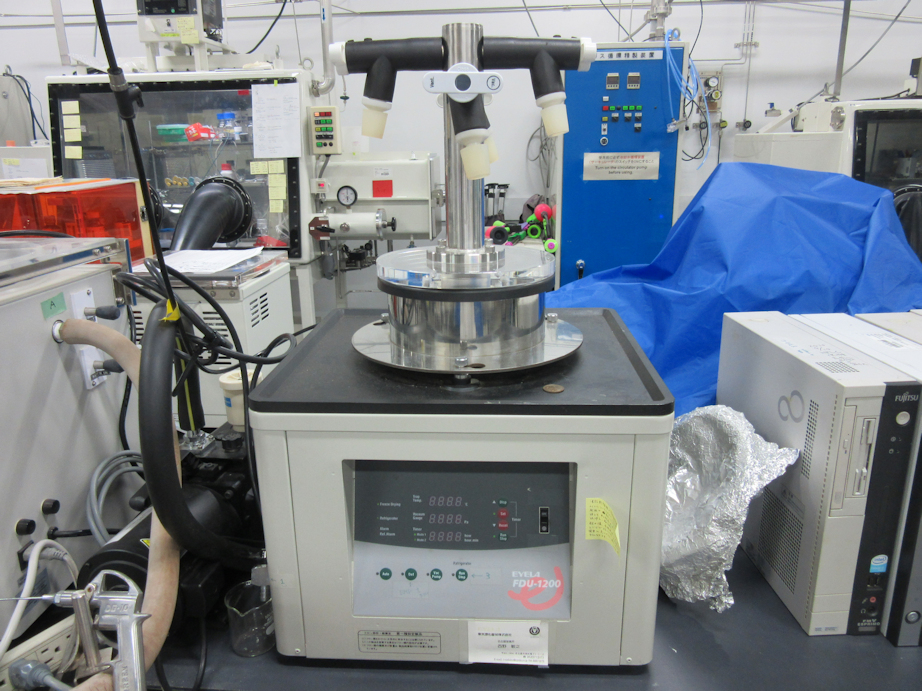 Freeze dry machine
While maintaining the frozen state of the sample solution, the solvent is removed under reduced pressure. It is used to concentrate peptide samples.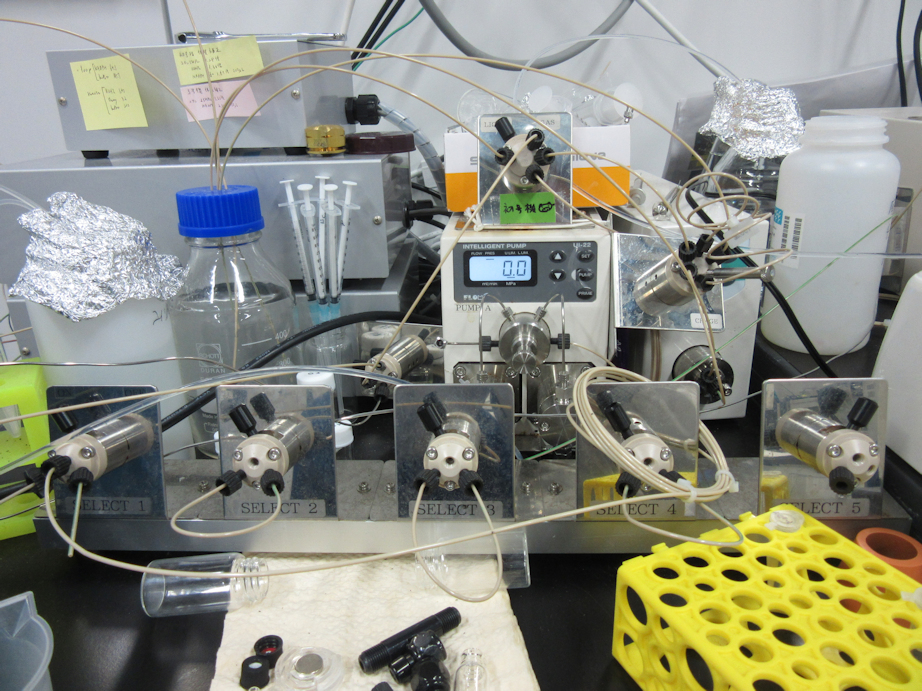 High pressure reactors(developed in our lab.)
These are high-pressure reactors based on HPLC. By further compressing the gas in the end-capped reaction vessel with the solvent-flow by HPLC pump, high-pressure reactions can be performed safely and easily (Max. 300 atm).
Science & Agricultural Building SA316 (Project room)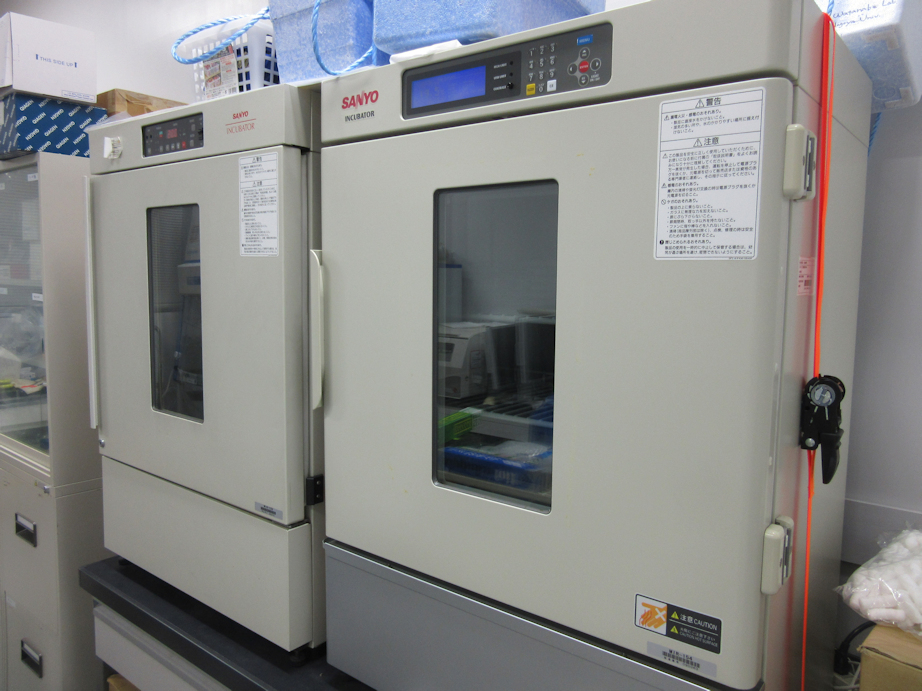 Incubators for crystallization
These are incubators for growing crystals of proteins for single crystal X-ray structural analysis.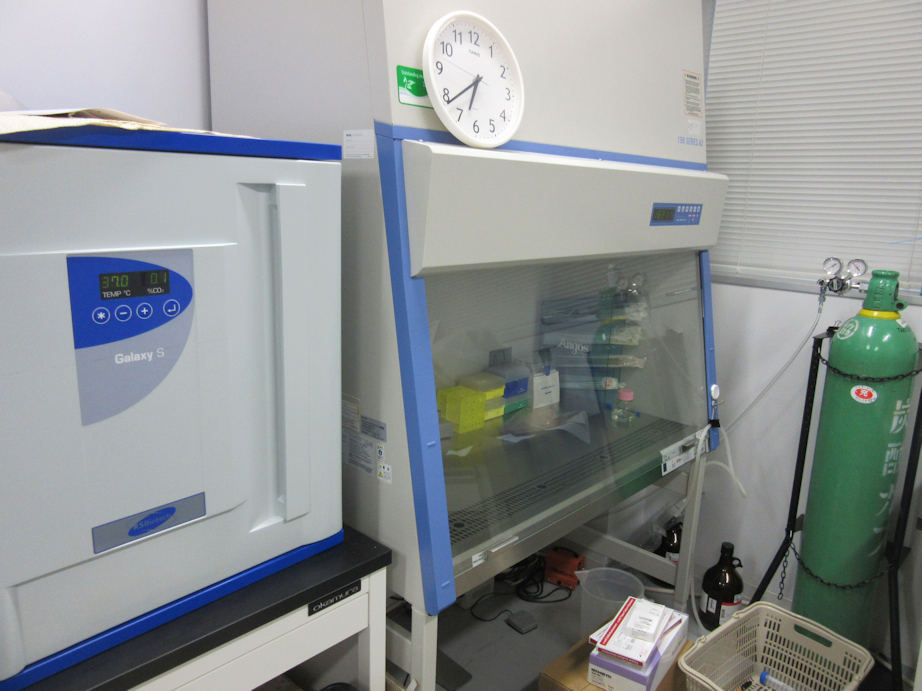 Equipment for culturing of mammalian cells
They are a safety cabinet for cell experiments and a CO2 incubator. They are used for culturing mouse-derived cells for cytotoxicity evaluation.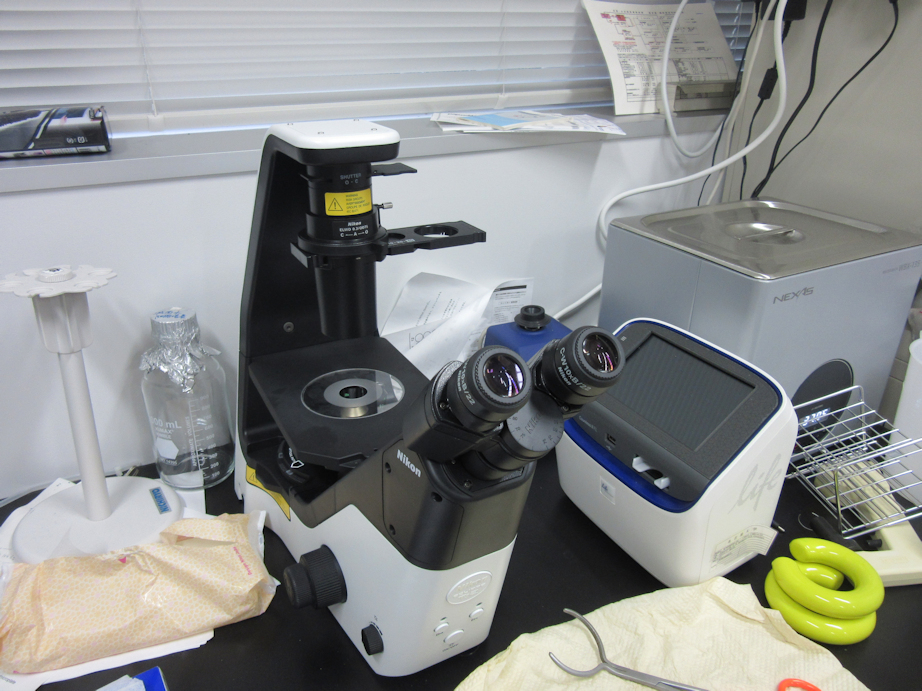 Microscope for mammalian cell
This microscope is used to observe the morphology of cells in culture and to confirm the number of cells.
Science & Agricultural Building SA602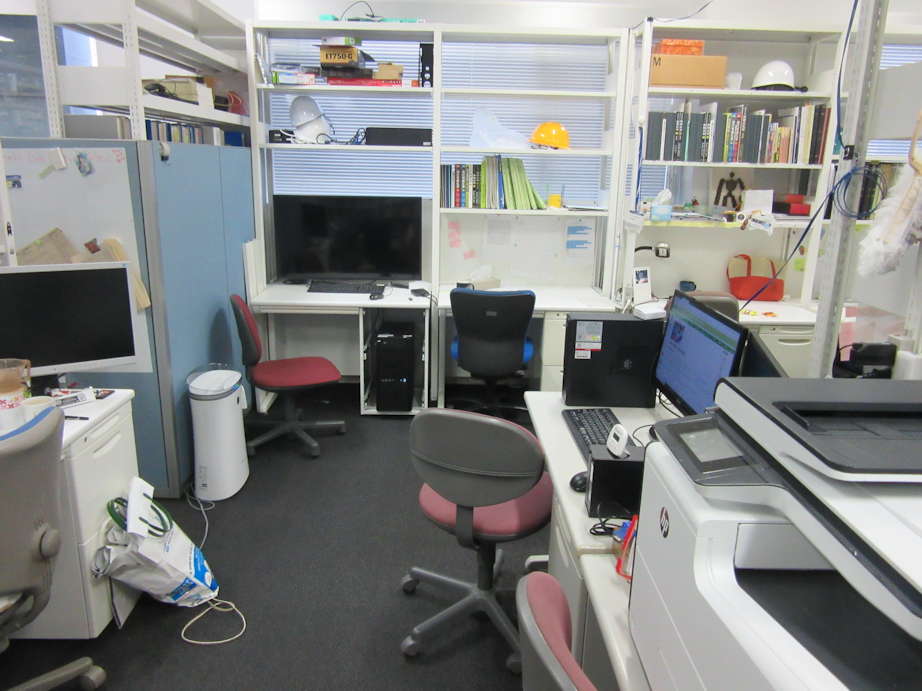 Office room
This office room is Japanese style that takes off shoes with carpeting. Each student uses own desk. In addition to analyzing experimental data, searching for scientific papers, preparing for presentations, we also conduct computational research such as molecular dynamics calculations.

Relax room
Relax room is mainly used for meals and breaks. It is sometimes used for discussion.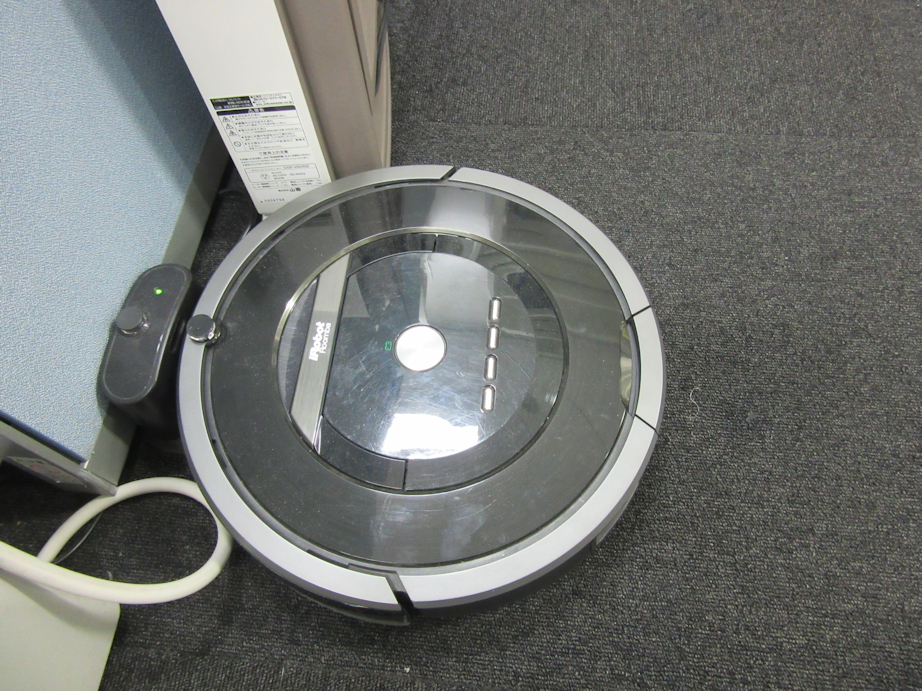 Automatic cleaning machines
The cleaning machines can automatically clean the carpets in the office room and relax room during the night.
Others
We also use chemical equipment of department of chemistry such as NMR and EPR, circular dichroism spectrophotometer (CD spectrum), MALDI-TOFMS, etc.
Outside the campus, we perform single-crystal X-ray structure analysis and X-ray absorption spectroscopy of proteins at SPring-8 and use differential scanning calorimeter (DSC) of Institute for molecular science.