Research Introduction
Development of Biocatalysts Based on Cytochrome P450s
Chapter 2 Functional modulation of P450BM3 using decoy molecule and its application to biocatalyst
Episode 4: Control of stereoselectivity in hydroxylation by decoy molecules
 Many functional molecules including pharmaceuticals are chiral compounds having asymmetric carbon atoms, and in many cases, only one of the stereoisomers has physiological activity. Therefore, in organic synthetic chemistry, stereoselective chemical conversion methods have been actively studied. Enzymes are originally composed of chiral amino acids, and the reaction centers are chiral environment. Therefore, it is suitable for stereoselective chemical transformation, but usually only one stereoisomer can be produced.
 Up to this point, we have achieved control of "substrate specificity" by using decoy molecules, but we thought that "stereoselectivity" of the enzyme could also be controlled. The decoy molecules are incorporated into the P450BM3 along with the non-natural substrates and not only initiate the catalytic cycle, but also reconstruct reaction space suitable for the non-natural substrate by partially occupying the P450BM3 substrate pocket. In other words, it was expected that the reaction space could be desirably changed by the decoy molecule, and that the orientation of the non-natural substrates in the substrate pocket could be controlled. Thus, when hydroxylation is performed with P450BM3 in the presence of various decoy molecules using ethylbenzene, indane, and tetralin, which generate asymmetric carbon as a result of hydroxylation, as expected, the ratio of stereoisomers (R and S) has changed. Especially in Indan, hydroxylation proceeds R-selectively in the presence of 3rd generation decoy called 5CHVA-Phe, and also S-selectively in the presence of 3rd generation Z-Pro-Phe. So we succeeded in synthesis of both stereoisomers by same enzyme with different decoys. According to the co-crystal structures of each decoy molecule and P450BM3, the shape of the substrate pockets of P450BM3 differ depending on the decoy molecules. In addition, based on docking simulation, the orientation of indan differs between the two structures. It agrees well with the experimental results.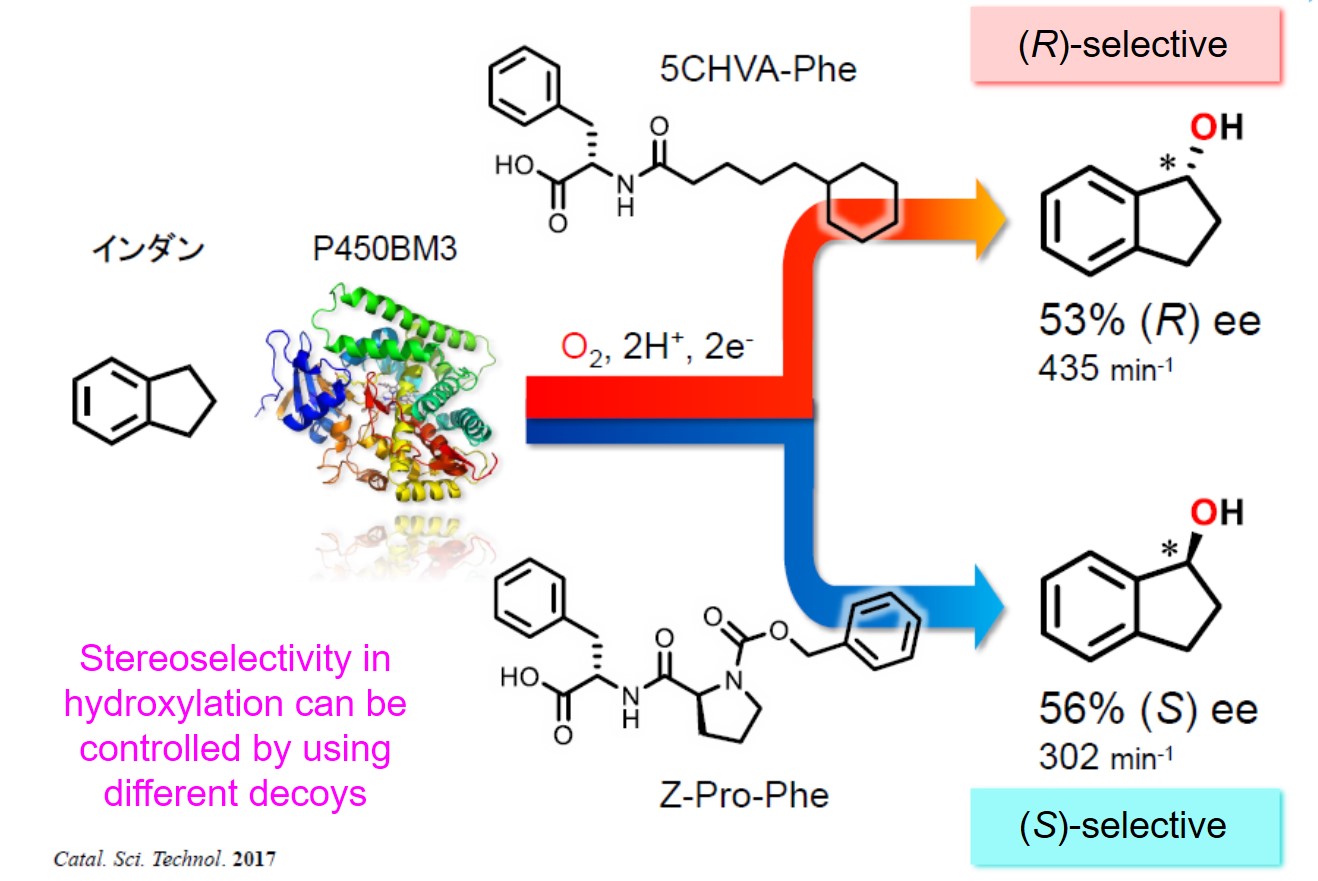 Please refer to this paper for details.
K. Suzuki, J. K. Stanfield, O. Shoji, S. Yanagisawa, H. Sugimoto, Y. Shiro, Y. Watanabe , " Control of Stereoselectivity of Benzylic Hydroxylation Catalysed by Wild-type Cytochrome P450BM3 Using Decoy Molecules", Catal. Sci. Technol., 7, 3332-3338 (2017).
http://dx.doi.org/10.1039/C7CY01130J

Chapter 2 Episode 5: Reconstitution of P450BM3 for incorporation of different metal centers