Research Introduction
Development of Biocatalysts Based on Cytochrome P450s
Chapter 2 Functional modulation of P450BM3 using decoy molecule and its application to biocatalyst
Episode 5: Reconstitution of P450BM3 for incorporation of different metal centers
 The most well-established method for controlling the reactivity and selectivity of enzymes including P450BM3 is mutagenesis-method that replaces amino acids used in natural enzymes with other amino acids. Researchers around the world including Prof. F. H. Arnold who won the 2018 Nobel Prize in Chemistry have created numerous mutants and have been successful. On the other hand, we independently succeeded in converting the substrate specificity and controlling the stereoselectivity of P450BM3 by adding a chemically synthesizable additives called decoy molecules. However, in both methods, the active center in which the enzymatic reaction is carried out is an iron complex called heme, and its basic reaction profiles strongly depend on heme. In order to greatly change the properties of the enzymes, a technique called "reconstitution" in which a complex at the active center is replaced with another complex has been studied in various heme proteins including myoglobin and the heme-acquisition protein HasA used in our laboratory. We searched for new functions of P450BM3 and tried to reconstruct P450BM3, but it was difficult with the conventional method. This is due to the complex structure of P450BM3. Normally, P450 is composed of a single heme domain with heme, the active center, and requires reductases that transfer electrons to heme as a partner. On the other hand, P450BM3 has a fused structure in which a heme domain and a reductase are linked covalently. (This is the reason why P450BM3 has a very fast reaction rate among P450s). In this way, P450BM3 has a complex structure unlike normal P450, so the reported reconstitution methods tend to lose the enzymatic functions on the way, and the yields of obtaining reconstituted enzymes that retains the function is very low.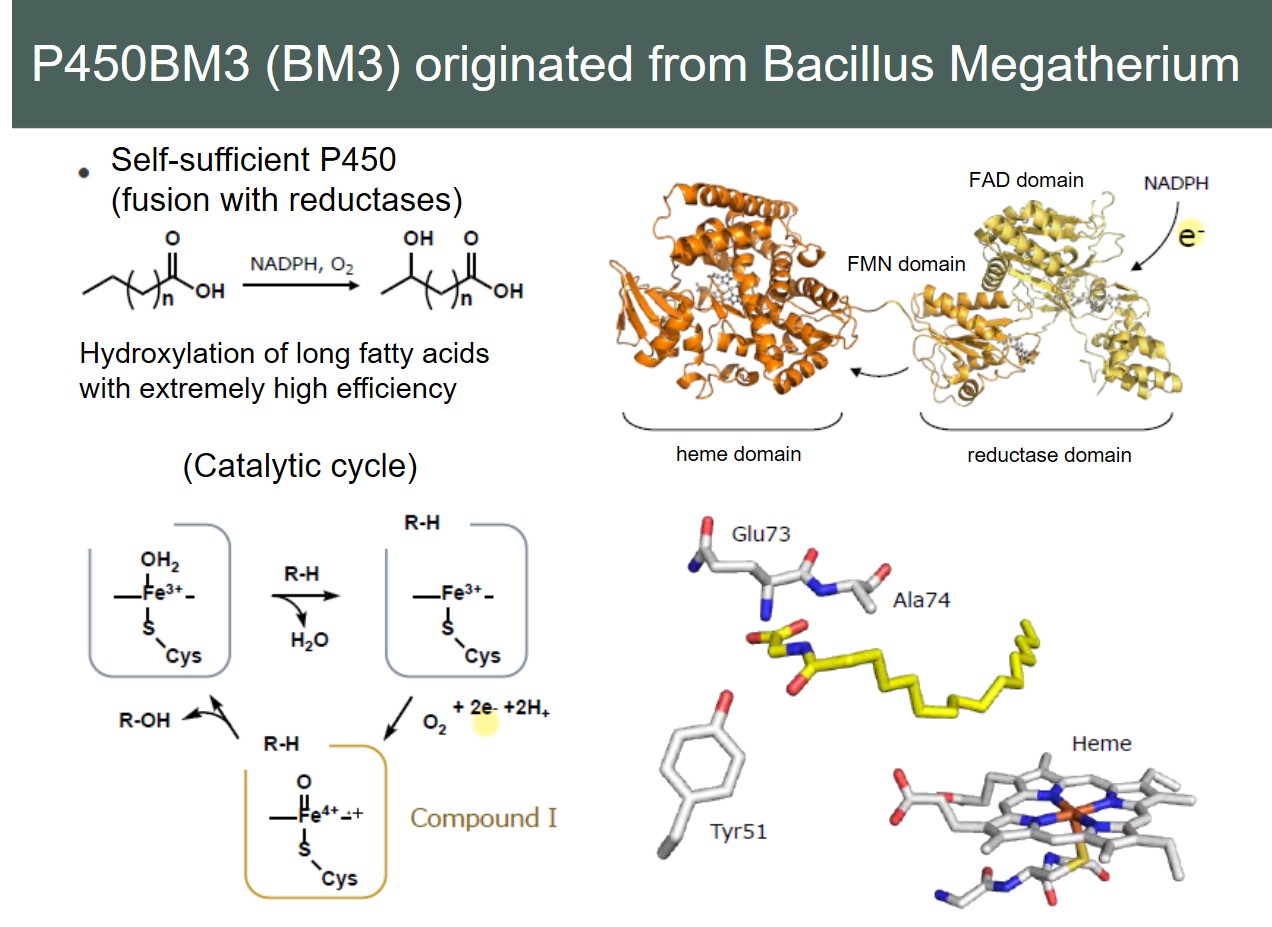 Therefore, we decided to divide P450BM3 into a heme domain and a reductase domain, reconstitute with only the heme domain, and then link with the reductase domain to construct a full-length P450BM3 reconstituted product. Reconstitution of the heme domain using the method previously developed (expressing an apo form of the heme domain without heme in a medium without iron and reconstituting another complex) and peptide-ligation enzyme SrtA was used for ligation. By this method, the P450BM3 reconstructed body in which the central metal has manganese instead of iron was successfully created.P450BM3 reconstituted with manganese was able to hydroxylate propane in the presence of decoy molecules as in the case of natural iron-containing P450BM3 and its product-ratio between 2-propanol and 1-propanol was different. By exchanging the central complex, the reaction characteristics of the enzyme can be greatly changed.

Please refer to this paper for details.
K. Omura, Y. Aiba, H. Onoda, J. K. Stanfield, S. Ariyasu, H. Sugimoto, Y. Shiro, O. Shoji, Y. Watanabe,"Reconstitution of Full-Length P450BM3 with an Artificial Metal Complex by Utilising the Transpeptidase Sortase A" , Chem. Commun., 54, 7892-7895(2018)
10.1039/C8CC02760A

Chapter 2 Episode 6: Direct conversion from benzene to phenol using E. coli as a reaction vessel