Research Introduction
Development of Biocatalysts Based on Cytochrome P450s
Chapter 2 Functional modulation of P450BM3 using decoy molecule and its application to biocatalyst
Episode 6: Direct conversion from benzene to phenol using E. coli as a reaction vessel
 The decoy system we have developed enable to control the substrate specificity or stereoselectivity of P450BM3, resulting in conversion of non-natural substrates such as propane and benzene to the corresponding hydrated products directly at room temperature in aqueous media. Although this method is expected as an environment-friendly chemical conversion method, one major problem must be solved. P450 is a monooxygenase that uses an oxygen molecule and adds one oxygen atom to the substrate, but requires NAD (P) H as an electron source to reductively activate the oxygen molecule. That is, NAD (P) H is consumed by the same amount as the hydroxylation of the substrate. In the case of P450BM3, NADPH is utilized, but commercially available NADPH is very expensive (about 20,000 yen for 1 g) and does not match the value of the product, so it is not easy to be put into practical use. On the other hand, natural systems have various enzyme-families that regenerate NAD (P) H by using glucose (glucose) in the body. We anticipated that the reaction could proceed while consuming glucose and regenerating expensive NADPH.
 Therefore, we utilized Escherichia coli expressing P450BM3 as a reaction vessel, and benzene and decoy molecules were added into E. coli. It was confirmed that direct hydroxylation from benzene to phenol also progressed in E. coli. In this reaction, the conversion efficiency to phenol was high in the 3rd generation decoy, and it was speculated that the difference in the efficiency of uptake of decoy molecules into E. coli affects to the difference in hydroxylation efficiency. As a result of optimizing the reaction conditions, in the presence of C7-Pro-Phe, benzene was successfully converted to phenol at a conversion rate of approximately 40% at 25 degree for 5 hours. This intracellular reaction system not only avoids the consumption of expensive NADPH, but also recovers E. coli after completion of the reaction, and can add benzene and decoy molecules again to carry out repeated catalytic reactions.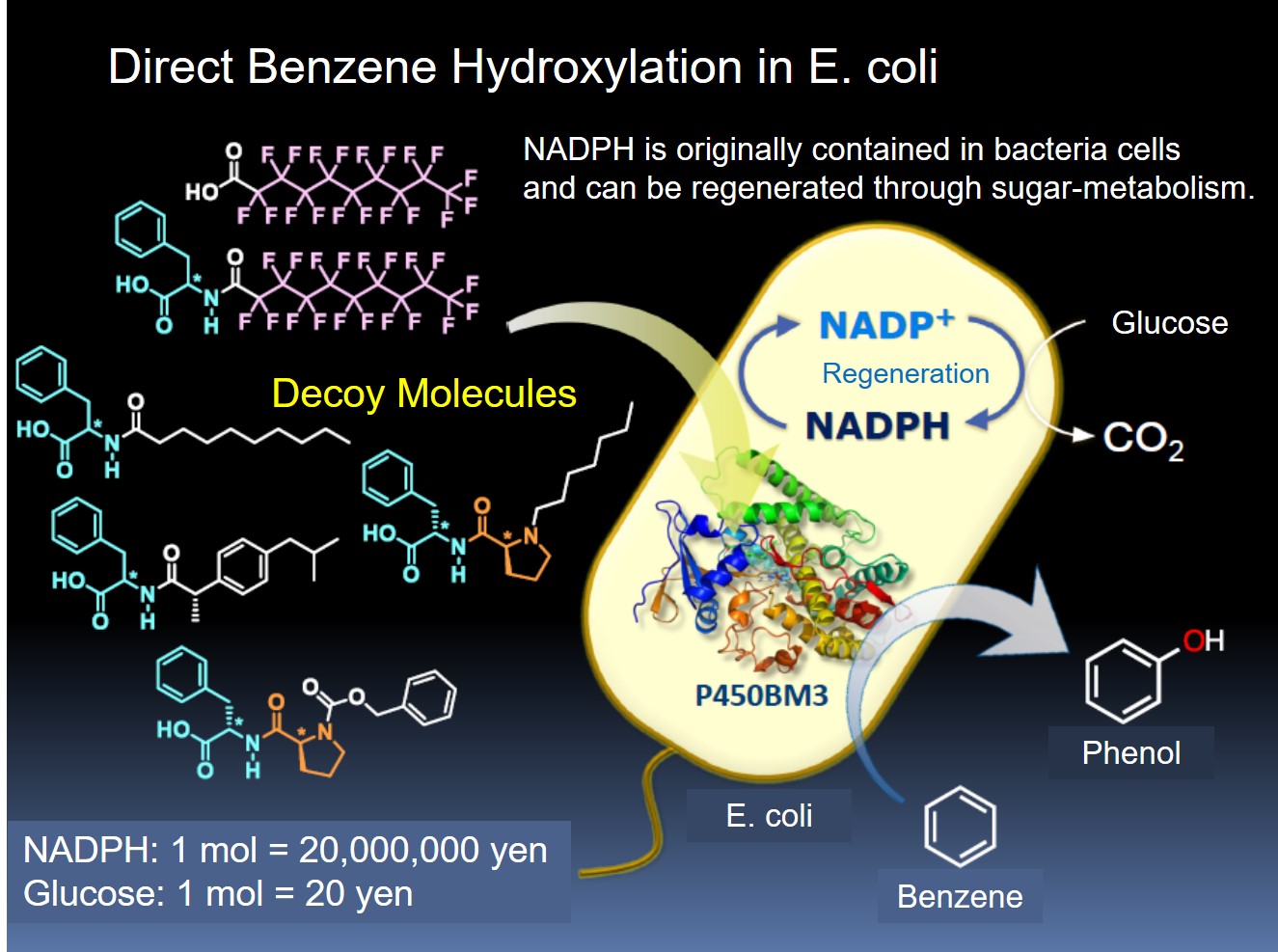 Please refer to this paper for details.
M. Karasawa, J. K. Stanfield, S. Yanagisawa, O. Shoji, Y. Watanabe "Whole-Cell Biotransformation of Benzene to Phenol Catalysed by Intracellular Cytochrome P450BM3 Activated by External Additives" , Angew. Chem. Int. Ed., 57, 12264-12269(2018). , Angew. Chem., 130, 12444-12449(2018). https://doi.org/10.1002/ange.201804924(Germany ver.) https://doi.org/10.1002/anie.201804924(English ver.)

Chapter 2 Episode 7: Development of a high-pressure reactor and efficient hydroxylation of gaseous alkanes