Research Introduction
Development of Biocatalysts Based on Cytochrome P450s
Chapter 2 Functional modulation of P450BM3 using decoy molecule and its application to biocatalyst
Episode 9: Systematic evolution of decoy molecules through multi-step screening
 In order to improve the hydroxylation activity of P450s, it is effective to construct the optimum substrate pockets for the target substrates, and so far, "mutagenesis" that genetically replaces the amino acids constituting P450 to other amino acids has been conventionally used. Mutagenesis is an effective method to alter substrate specificities of enzymes. For example, Prof. Arnold et al., who won the 2018 Nobel Prize in Chemistry, optimized the space near the active center (heme) of P450BM3 by repeating cycle of mutagenesis and selection many times (directed evolution). They have succeeded in hydroxylating propane, which cannot be hydroxylated by the wild-type P450BM3. On the other hand, we have achieved hydroxylation of unnatural substrates such as propane by adding decoy molecules to wild-type P450BM3. This method can reconstruct the artificial reaction space by both P450BM3 and decoy molecules. Mutagenesis and decoy-system are different approaches, but they have in common that they redesign the reaction space around the heme, which is the active center. Therefore, we expected that decoy molecules can be evolved chemically like directed evolution by repeating mutagenesis. At that time, the design of decoy molecules has been based on the co-crystal structures of P450BM3 and reported decoy molecules, so the structural diversity of 1st to 3rd generation decoy molecules has been considerably limited. Therefore, it was necessary to search for a wide range of molecular structures without being bound by the structures of reported decoy molecules. I needed a good search tool. However, due to the successful development of the 3rd generation decoy molecules, the number of structures that can work as decoy molecules must be enormous. Thus, we need efficient ways to discover the optimal decoy molecule.
 Therefore, we selected N-substituted dipeptide-type decoy molecules (Z-Pro-Phe, C7-Pro-Phe, etc.), which can induce high activities in benzene hydroxylation among the 3rd generation decoy molecules, as the basic scaffold. The N-substituted dipeptide-type decoy molecules can be divided into three parts, two amino acids and an N-substituted group, and it is possible to efficiently prepare various combinations of substructures by solid-phase peptide synthesis and combinatorial synthesis. In addition, phenol generated by benzene hydroxylation can be evaluated by colorimetric assays, and multiple samples can be analyzed simultaneously using a 96-well microplate. We searched for useful substructures as decoy molecules for each part of N-substituted dipeptide type decoy molecules and developed a 6-step systematic evolution method to discover the optimal decoy molecules from the combination of potent substructures. Although we investigated the search range of 98072 molecules containing 164 types of N substituents, 26 types of central amino acids and 23 types of terminal amino acids, we successfully discovered promising decoy molecules which exhibits excellent hydroxylation efficiencies in benzene hydroxylation through evaluation of only 613 molecules by using the novel multi-step screening approach. Interestingly, the decoy molecules were evolved based on activities of benzene hydroxylation, but the top decoy molecules were also suitable for hydroxylation of other non-natural substrates such as cyclohexane, propane, and ethane. One of the evolved decoy molecules induce extremely high catalytic efficiencies in ethane hydroxylation at 50 atm (TOF: 83 min-1). Although the structure-activity relationship of decoy molecules is still unclear, it is possible to efficiently search for the optimal decoy molecules for the desired reactions by using this method.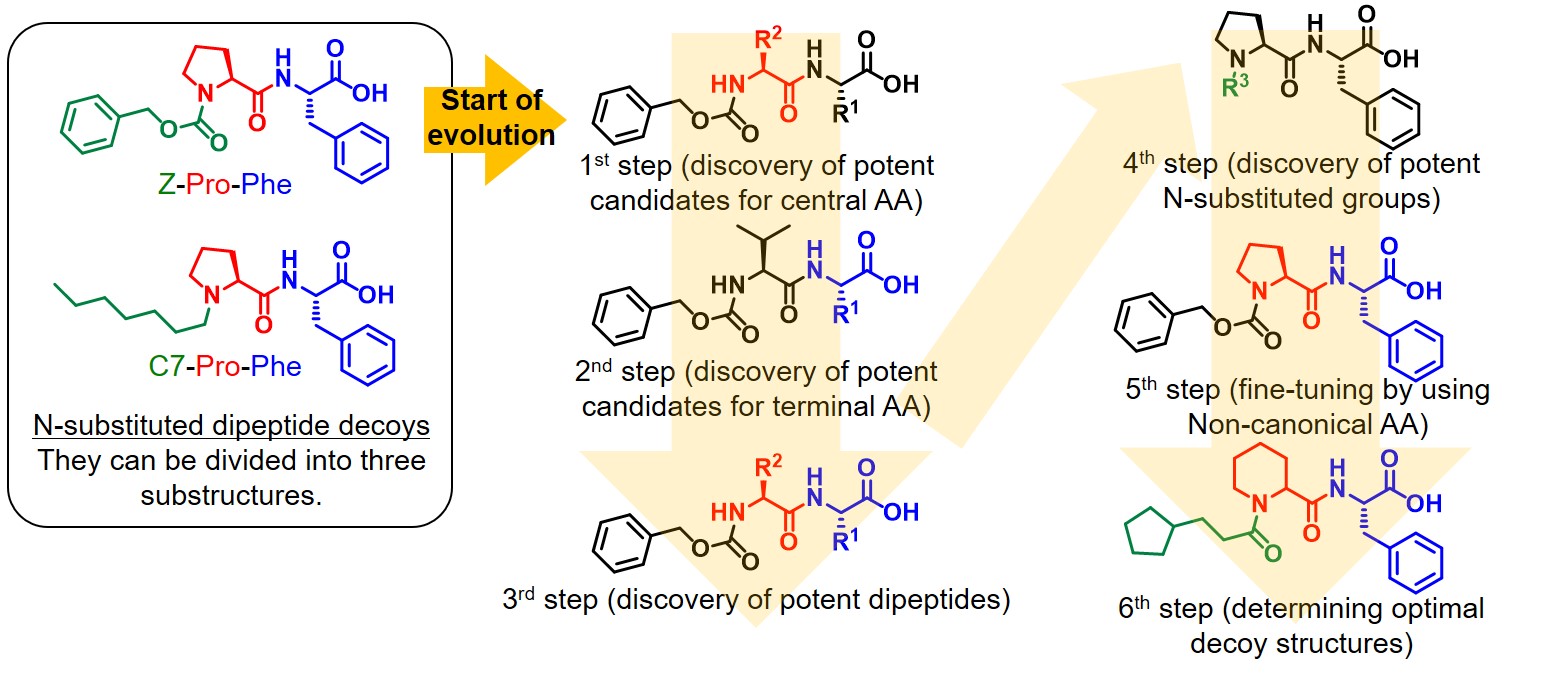 Please refer to this paper for details.
K. Yonemura, S. Ariyasu, J. K. Stanfield, K. Suzuki, H. Onoda, C. Kasai, H. Sugimoto, Y. Aiba, Y. Watanabe, O. Shoji "Systematic Evolution of Decoy Molecules for the Highly Efficient Hydroxylation of Benzene and Small Alkanes Catalyzed by Wild-Type Cytochrome P450BM3" , ACS Catal., 10, (2020) 9136-9144

https://doi.org/10.1021/acscatal.0c01951



Chapter 2 Episode 10: Control of stereoselectivity in non-native reactions by combined use of decoy molecules and mutagenesis