Research Introduction
Development of Biocatalysts Based on Cytochrome P450s
Chapter 2 Functional modulation of P450BM3 using decoy molecule and its application to biocatalyst
Episode 10: Control of stereoselectivity in non-native reactions by combined use of decoy molecules and mutagenesis
 P450BM3 is an enzyme that hydroxylates long-chain fatty acids. So far, we have achieved alteration of catalytic properties (ex. substrate specificity conversion and stereoselectivity control) of P450BM3 using decoy molecules, but this reaction-system was limited to native reactions such as hydroxylation. On the other hand, many studies have been recently reported that mutants of heme proteins such as P450 and myoglobin are used to catalyze non-native reactions such as cyclopropanation. For cyclopropanation, ethyl diazoacetate (EDA) is reacted with the heme to insert carbon atoms into the alkene via the heme-carbene intermediate. The structure of cyclopropane is the smallest ring structure that is strongly distorted and is an important target of synthetic chemistry. However, because cyclopropanation produces two chiral carbon centers, a stereoselective cyclopropanation catalyst has been strongly demanded. Therefore, many researchers are aiming to achieve the desired stereoselectivity by introducing a large number of mutations into heme proteins through directional evolution. On the other hand, we have succeeded in changing the catalytic properties in hydroxylation by partially occupying the substrate pocket of P450BM3 with decoy molecules instead of mutagenesis. We expected that the construction of artificial substrate pocket shapes arranged by decoy molecules is also effective in control of regioselectivities in cyclopropanation.
 Therefore, in the case of using styrene, which produces four stereoisomers by cyclopropaneation, T268A mutant of P450BM3 produced the (1S, 2S) as the main product in the absence of the decoy molecule. On the other hand, this reaction hardly proceeded in the presence of the decoy molecule. It was speculated that the decoy molecules filled the reaction space required for cyclopropanation. Thus, we created an F87A/T268A double mutant in which phenylalanine (Phe, F), which is largely overhanging in the substrate pocket, was replaced with smaller alanine (Ala, A), and performed the same reaction. Decoy molecules did not inhibit cyclopropanation reactions and enhance its stereoselectivity to produce (1S, 2R) form as main product.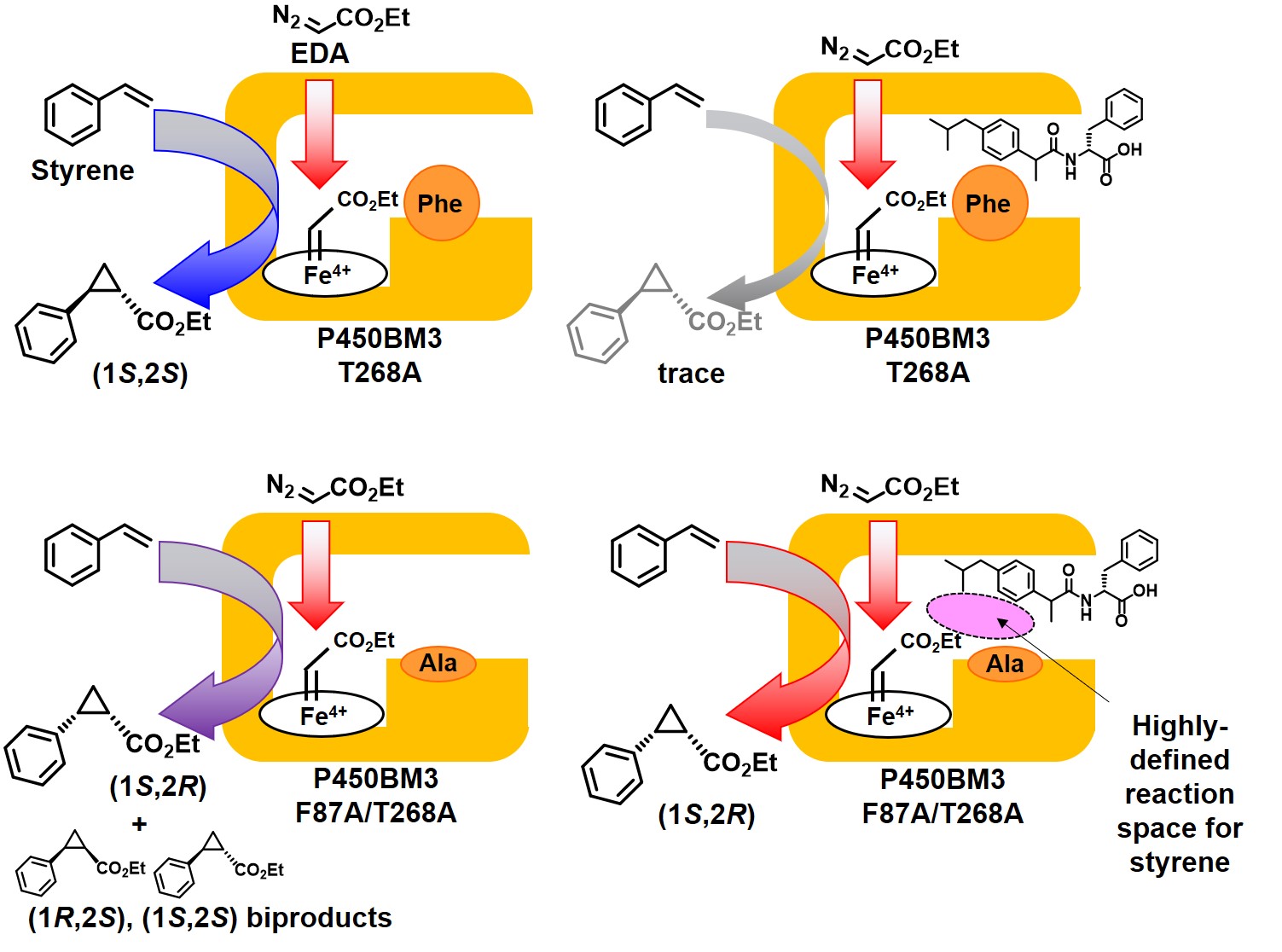 Please refer to this paper for details.
K. Suzuki, Y. Shisaka, J. K. Stanfield, Y. Watanabe, O. Shoji "Enhanced cis- and enantioselective cyclopropanation of styrene catalysed by cytochrome P450BM3 using decoy molecules" , Chem. Commun., 56, (2020) 11026-11029.

https://doi.org/ 10.1039/d0cc04883f